Eye on Photos: Red Sox top Tigers in ALCS, head to World Series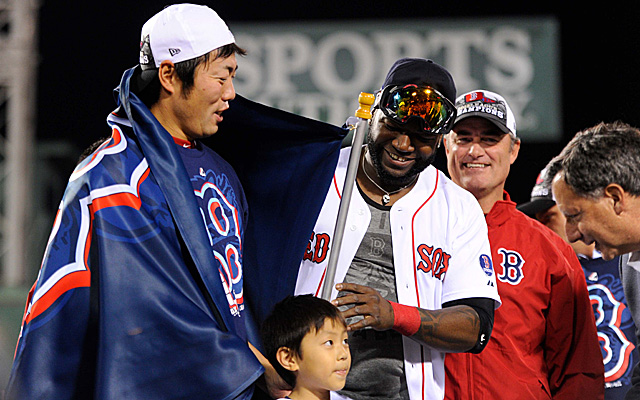 Red Sox advance to World Series: Quick hits | RIP Tigers | Grades | STL-BOS, who has edge?
The Boston Red Sox advanced to the World Series with a 5-2 victory Saturday night in Fenway Park, thanks in large part to Shane Victorino's grand slam. They'll now head to the World Series to square off against the Cardinals in a battle pitting the two teams with the best regular-season records.
Let us look back on this excellent ALCS in photos.
NOTE: Click on any individual photo for a full-size version.
| | |
| --- | --- |
| | |
| Anibal Sanchez's six no-hit innings were the story in Game 1. (Getty Images) | Miguel Cabrera's Game 2 homer sparked a four-run rally in the sixth ... (USATSI) |
Big Papi's game-tying grand slam in Game 2 turned the entire series around. (

USATSI

)
Jarrod Saltalamacchia's walking base hit is what ended things in Game 2. (

USATSI

)
John Lackey essentially outpitched the great Justin Verlander in Game 3. (Getty Images)
A light outage during a day game caused a delay in Game 3. (

USATSI

)
Prince Fielder's power was absent throughout the postseason. (

USATSI

)
The neighborhood here was pretty large. (

USATSI

)
Jake Peavy's Game 4 start wasn't confidence-inspiring. (

USATSI

)
Mike Napoli's power stroke was awakened in Detroit, where he clubbed two huge homers. (

USATSI

)
David Ross bowled over fellow catcher Alex Avila, raising talk about whether or not this play should be outlawed. (

USATSI

)
Jose Iglesias flashed some defensive wizardry in Game 5. (

USATSI

)
The Tigers may have had a huge sixth inning in Game 6, but Prince Fielder decided to do a belly flop while in a rundown. (

USATSI

)
Shane Victorino reacts to his series-winning -- eventually, as it was only the seventh inning -- grand slam in Game 6. (

USATSI

)