Alex Rodriguez's legal team blocked from presenting whistleblower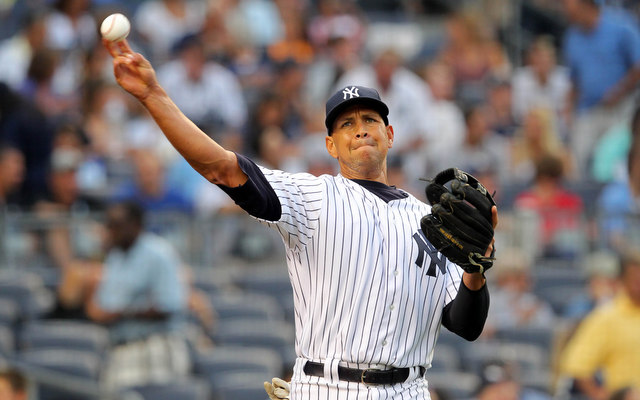 Lawyers for Yankees third baseman Alex Rodriguez were blocked from presenting a person described as a "Major League Baseball whistleblower" at a news conference on Monday afternoon, according to the Associated Press. Arbitrator Frederic Horowitz issued an order stopping them from "conducting any press conference or briefing regarding the subject matter of the hearing.''
Here is more on this bizarre turn of events from the Associated Press:
The lawyers would not say whether the ''whistleblower'' worked for Major League Baseball, one of its teams or some other affiliate. Rodriguez's attorneys repeatedly have complained about MLB's investigation, describing it in a lawsuit as a ''witch hunt'' and alleging MLB paid for information and intimidated witnesses. Both sides have accused each other of leaking confidential information. MLB has denied any improprieties.

. . .

One person familiar with the day's developments, speaking on condition of anonymity because no additional statements had been authorized, said an MLB employee had written to Rodriguez's lawyers expressing unhappiness with MLB's investigation methods.
Following the cancellation of the news conference, A-Rod's lawyers called for MLB and the players' union to open the appeal hearing of his 211-game suspension to the public. That would involve releasing transcripts of all the testimony that has already been made, a total of eight days worth.
''We'd prefer that this hearing be open publicly,'' said Joseph Tacopina, who is leading Rodriguez's legal team. ''All we want is for the truth to come out, and all we want is for the testimony to come out, particularly [MLB executive Rob] Manfred's.''
The hearing is scheduled to resume on Nov. 18 and figures to continue for several days. Horowitz is expected to give his ruling within 25 days of the conclusion of the hearing. An MLB employee expressing concern about the league's investigation could be a big blow to their case depending on the employee's credibility.
Tacopina and the lawyer for former Biogenesis chief Anthony Bosch almost came to blows earlier this month.