David Ortiz 'likely' to play first base in Game 3 of the World Series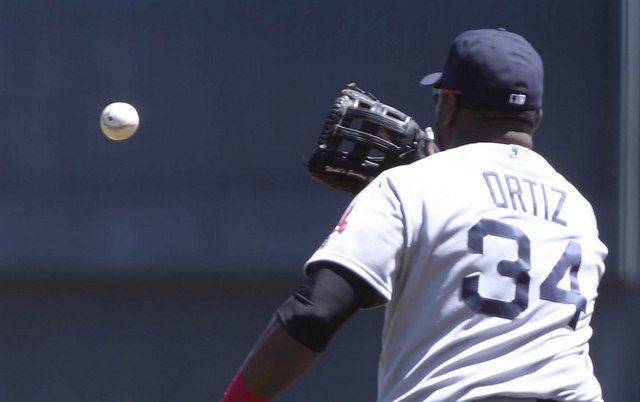 The Cardinals and Red Sox split the first two games of the World Series in Boston and now the series shifts to St. Louis for Games 3-5. With the move to the NL city, the two teams lose the DH, which is an especially big blow to the Red Sox.
Through 12 postseason games, David Ortiz is hitting .268/.392/.659 with five home runs, 12 RBI and more walks (nine) than strikeouts (six). He is 4 for 8 with two homers in the first two games against the Cardinals, and he also had a grand slam taken away by Carlos Beltran. Big Papi is locked in right now.
Following Game 2, Red Sox manager John Farrell told reporters it's "likely" he'll play Ortiz at first base and sit Mike Napoli in Game 3 on Saturday night:
It's likely that Game 3 he'll be at first base at this point, just a quick look at it. And how we go from there, we'll go to it day to day. But again we're going to lose one of the middle-of-the-order bats, and that's understood going in. But still David's in a pretty good place right now offensively.
Usually the decision to sit Napoli in favor of Ortiz would be a no-brainer, but Napoli has swung the bat very well himself lately. Farrell is stuck in the enviable position of have too many good hitters and needing to sit one.
Ortiz, 37, plays a handful of games at first base during interleague play each year. He played six games in the field this season and seven last year, for example. Ortiz played first base during all four of the team's NL park games in the 2004 and 2007 World Series. He hasn't been a regular at the position since way back in 2003, his first season in Boston.
I suspect Farrell's comment about taking it "day to day" has to do with how Ortiz feels physically each day. He's coming off Achilles and heel injuries and at his age, playing the field three straight days after having not done it for so long might not be possible. Either way, Boston will have a very good hitter at first base during the three games in St. Louis regardless of whether Ortiz or Napoli is on the bench.