Lance Lynn and Clay Buchholz announced as Game 4 starters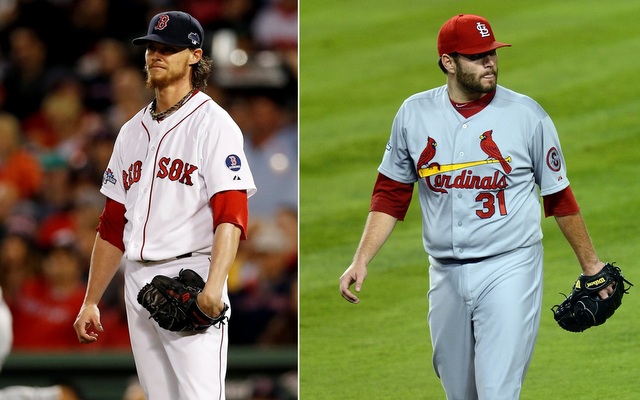 Cardinals right-hander Lance Lynn and Red Sox right-hander Clay Buchholz were officially announced as each team's starting pitcher for Game 4 of the World Series by their respective managers on Friday. Both starting assignments were unsettled for different reasons.
Lynn, 26, has allowed seven runs in 11 2/3 innings across two starts and one relief appearance this postseason. St. Louis was said to be considering using Game 1 starter Adam Wainwright on three days' rest in Game 4. Here's what skipper Mike Matheny had to say to reporters about going with Lynn over Wainwright:
If you ever have a chance and you're in a spot where it's an elimination game, you typically do give your ace a chance, if it's at all possible. Right now it's a situation where it's going to most likely be Lance Lynn pitching Game4. And we know that Lance has also been a guy that can pitch in big situations. And we look forward getting Adam back there on regular rest.
Buchholz, meanwhile, was questionable for a while due to an unspecified injury problem. It was believed to be just fatigue. The 29-year-old has allowed 10 runs in 16 2/3 innings across three postseason starts so far, and he appeared to tire in the sixth inning in all three starts. Manager John Farrell made it clear to reporters Buchholz is in good enough shape physically to start Game 4:
He went through a throwing program today. Went back to about a hundred feet with some increased intensity along the way, and he's starting Sunday.
Given the concern about Lynn's performance and Buchholz's injury, I would expect both teams to have a very quick hook in Game 4. If either starter gets into trouble in early innings, the bullpen could spring into action in a hurry.