Red Sox-Cardinals World Series Game 5 lineups: Craig is back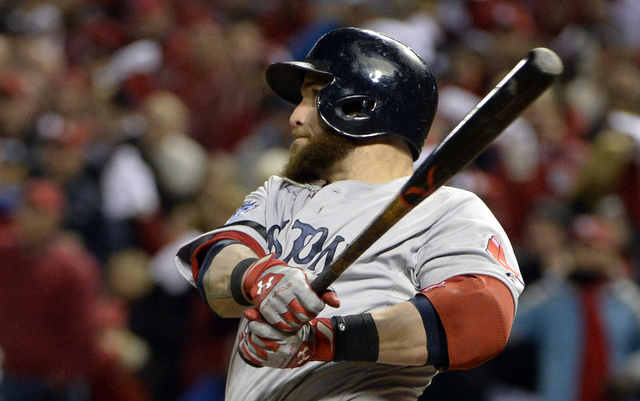 World Series Game 5: Pitching preview | Weather
UPDATE: Allen Craig is a late addition to the St. Louis lineup. He'll be batting sixth and manning first base despite his injured foot.
ST. LOUIS - Game 5 of the 2013 World Series between the Boston Red Sox and St. Louis Cardinals is set for 8:07 p.m. ET/7:07 p.m. CT Monday night in Busch Stadium.
The big news on the lineups is that Shane Victorino is again out of the Red Sox lineup. Big bats Mike Napoli and Allen Craig will continue to be available off the bench, too.
Also of note: Carlos Beltran is in the cleanup spot.
Here's how they'll line up.
Visiting Red Sox
1. Jacoby Ellsbury, CF
2. Dustin Pedroia, 2B
3. David Ortiz, 1B
4. Jonny Gomes, LF
5. Daniel Nava, RF
6. Xander Bogaerts, 3B
7. Stephen Drew, SS
8. David Ross, C
9. Jon Lester, P
Home Cardinals
1. Matt Carpenter, 2B
2. Shane Robinson, CF
3. Matt Holliday, LF
4. Carlos Beltran, RF
5. Yadier Molina, C
6. Allen Craig, 1B
7. David Freese, 3B
8. Pete Kozma , SS
9. Adam Wainwright, P