Report: Free agent Jacoby Ellsbury to have MRI on injured hand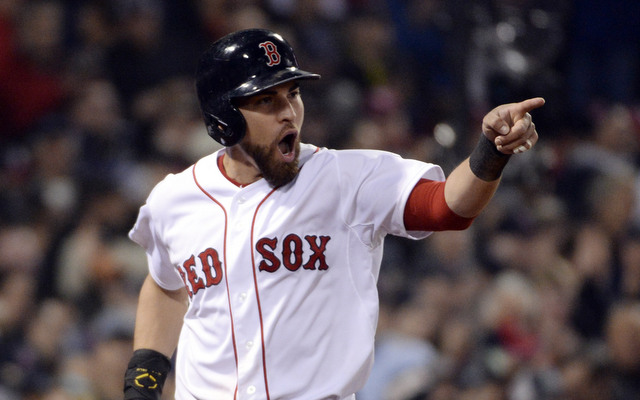 Current World Series champion and impending free agent Jacoby Ellsbury will have an MRI on his left hand, reports Ken Rosenthal of Fox Sports. Ellsbury played hurt throughout the postseason and for most of the second half, reducing his batting practice reps in an effort to manage the injury.
"I've got no more bullets in the gun. We have to win tonight," Ellsbury said to some of the Red Sox coaches before their Game 6 win Wednesday night. His hand was swollen and discolored up to his forearm. Unless the MRI turns up something unexpected, he is expected to be fine with rest and treatment.
Ellsbury, 30, exited a game with a hand injury in early September and missed another game with what was called "bone bruise and swelling" in the hand, but otherwise the injury was kept out of the media. He was limited to only seven games in September due to a compression fracture in his right foot.
In 134 games this season, Ellsbury hit .298/.355/.426 (114 OPS+) with nine home runs and an MLB-best 52 stolen bases. He hit .344/.408/.438 with six steals in 16 postseason games as the Red Sox stormed to the 2013 World Series title. The former first-round pick finished second in the 2011 MVP voting after posting a 146 OPS+ with 32 homers and 39 steals.
Ellsbury will be one of the top free agents available this winter -- players can sign with new teams starting next Tuesday -- and is expected to command a nine-figure contract. The Red Sox figure to make him the one-year, $14.1 million qualifying offer to ensure they receive draft-pick compensation if he signs elsewhere.