Nov. 9 offseason roundup: Should Dodgers trade Yasiel Puig?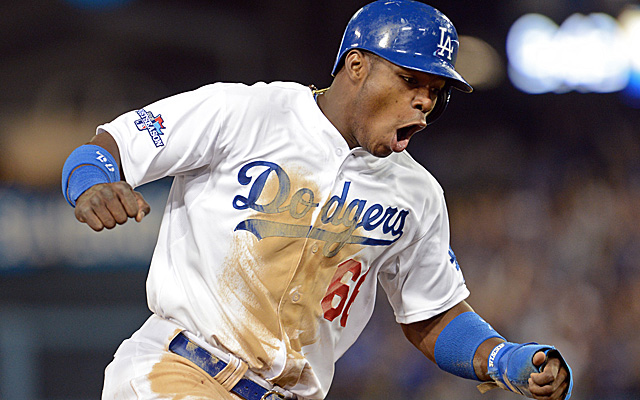 Friday night's roundup: Yankees hot for Tanaka
In terms of actual moves happening Saturday, there was nothing of consequence. We're so early in the offseason -- with Monday being the day when players decide whether or not to accept qualifying offers -- that it's more about speculation, reporting and what ifs. And first up in this roundup is some juicy "what if" fun.
Here's a summary of what we saw Saturday from this spot and around the web.
•The Dodgers should listen to trade offers on phenom outfielder Yasiel Puig, says Mark Saxon of ESPN Los Angeles. It's long and he has lots of points, many salient points, but what the argument boils down to is this: "The bottom line is this: His value might never be higher. It might be considerably lower in a year or two, if there are injuries or underperformance."
Possible, I guess. It's also possible Puig only scratched the surface on how good he could be and that he'll learn to harness his energy better the more he adapts to the game. He has as much pure talent as anyone. I'd hold onto him unless absolutely bowled over with an offer. Like, seriously, any trade talk about Puig would begin with "make me an offer I can't refuse."
•I took a look at possible landing spots for some of the hot names (and Dan Uggla, most definitely not a hot name).
•The Nationals are willing to listen to trade offers for Denard Span, according to my colleague Jon Heyman, just one year after they traded for him. The reason? They want to make a run at Jacoby Ellsbury. Oh, and this might be (read: Is) related:
Here we go again

— Denard Span (@thisisdspan) November 9, 2013
•The Yankees, Red Sox, Rangers and Angels are all bidding on Brian McCann, so expect him to get a "monster" deal, per Heyman.
•If the Red Sox don't land McCann, they may turn to Carlos Ruiz, reports Ken Rosenthal of Fox Sports.
•Veteran reliever LaTroy Hawkins is "likely" going to be back with the Mets in 2014, reports the New York Daily News.
•"More than a dozen teams have inquired on Joba Chamberlain," reports Sweeny Murti of WFAN, noting the Yankees aren't among the suitors. Let's keep in mind, though, just because a team asks discusses things with a player doesn't mean they are clamoring for his services. It's the time of year to cast a wide net with regard to every spot on both the 40-man roster and the minor-league rosters.

•The Indians are likely to miss out on retaining free agents Ubaldo Jimenez, Scott Kazmir, Joe Smith and Matt Albers, per Paul Hoynes of cleveland.com, noting the club would like to keep all four but that it appears they'll be outbid. While any of those guys would be a loss, I don't feel like any would be so huge they couldn't absorb it with internal depth and a cheaper signing or two.

•Carlos Beltran seeks a three to four year deal in free agency, reports Tim Brown of Yahoo Sports. He's 36 years old and such a demand means his stint in St. Louis will almost certainly be over with Allen Craig being able to play outfield, opening up first base for Matt Adams.