Report: MLB impeded FL Dept. of Health investigation into Biogenesis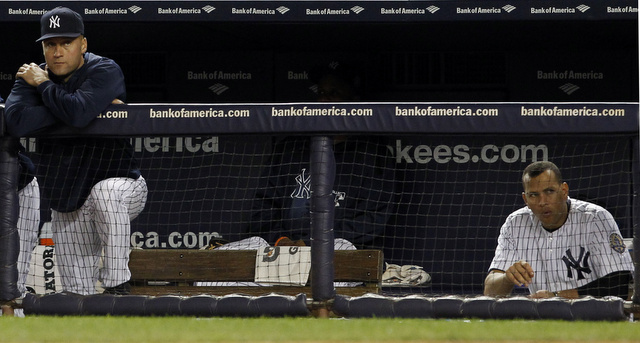 The appeal hearing of Alex Rodriguez's record 211-game suspension is set to resume on Monday, and all along his legal team has attacked the veracity of the league's investigation into the Biogenesis clinic at the root of the scandal. The league paid hefty sums for stolen evidence and bought the cooperation of former Biogenesis chief Anthony Bosch, for example.
According to ESPN's Mike Fish, MLB interfered with a Florida Department of Health investigation into Bosch by purchasing documents they had been warned not to obtain. The Dept. of Health was forced to close its case on Bosch with a limited scope and punishment -- $5,000 fine (later reduced to $3,000) and a cease-and-desist letter -- as a direct result of MLB's action. Here's more from Fish:
The source said MLB knew the documents had been intended for Florida investigators and that the purchase of them hindered the state investigation by preventing the department from gathering additional evidence against Bosch, doctors and others affiliated with the clinic. Further, MLB officials never told health department officials they had obtained the records, the source said.

"They can't say they weren't warned," the official said.

...

An MLB official denies impeding the Florida Department of Health investigation, while also suggesting repeatedly that the health investigation was more a regulatory than criminal undertaking and therefore not as serious. The MLB official also said that its investigators have continued to cooperate with subsequent criminal investigations by the Miami-Dade State Attorney's Office and the U.S. Attorney's Office that are focused on a cadre of Bosch associates, doctors and pharmacies.

The same MLB official acknowledges its own Biogenesis investigation would have been "extremely impeded" without the Biogenesis documents, telling "Outside the Lines" that without the documents and Bosch's subsequent cooperation "nobody would have been disciplined." More than a dozen minor and major league players have been suspended for their roles in the Biogenesis case, with only Rodriguez fighting the discipline.
A spokesperson for the Dept. of Health declined to comment. The department "polices a broad spectrum of medical practitioners in the state, including, among others, those unlicensed who portray themselves as doctors and nurses," according to Fish. Bosch was never licensed to practice medicine.
MLB has made it no secret they intend to come down hard on players connected to PEDs, but it sounds more and more like they overstepped their bounds with the investigation. Purchasing stolen documents is one thing, but directly impeding a state investigation? And playing it off as if it doesn't matter because the state's investigation was less important? There's a line and it sure seems like MLB has crossed it.
Also, it's pretty rich that MLB is now being accussed of interfering with an official investigation after accusing Rodriguez of interfering with their investigation.