Roundtable: What should Dodgers pay to extend Clayton Kershaw?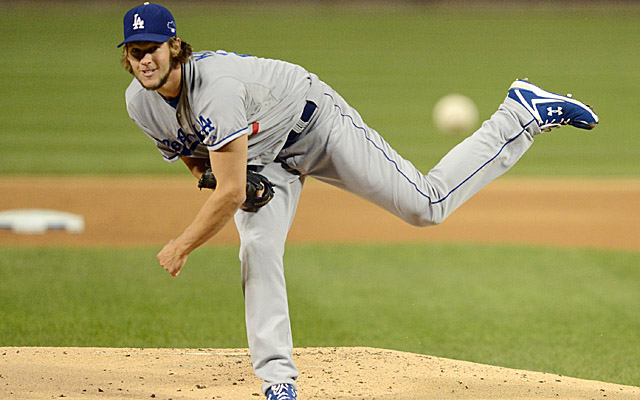 More: Kershaw wins 2013 Cy Young | Kershaw among best ever through age 25
The biggest storyline this offseason for the Dodgers involves retaining a player that is already under team control. That is: Ace Clayton Kershaw, who is easily the best pitcher in baseball, having won two of the last three Cy Youngs and leading the majors in ERA for three straight seasons.
Kershaw is also just one season away from free agency. The Dodgers are likely to do whatever it takes to keep him off the open market, but what it'll take a king's ransom.
Justin Verlander has the largest pitcher contract in MLB history at seven years and $180. At the time he signed the extension (five years, $140 million), he was widely considered the best pitcher in baseball, but he was also 30 years old.
Kershaw is just 25.
There has been one report (via ESPN's Buster Olney) that Kershaw was offered a $300 million deal -- which he reportedly did not accept.
We aren't going to get into predicting what deal Kershaw might eventually accept. Instead, we're going to imagine we are the Dodgers and figure out what we'd offer Kershaw.
Matt Snyder: This is a real tough one because the negatives and positives are each aplenty.
On the negative side, Kershaw has already logged 1,180 regular-season innings in his career and he hasn't even turned 26. Given the penchant for pitchers to break down and the relative failure of many recent top-dollar deals to pitchers, there is always cause for concern on giving a long-term deal to a pitcher. Of the top 10 deals to pitchers of all-time, at least three -- Mike Hampton, Barry Zito and Johan Santana -- fell woefully short of being worthwhile. Matt Cain and Justin Verlander are early in their deals but coming off down years, too. CC Sabathia's re-up with the Yankees prior to 2012 doesn't look good, either.
On the positive side, though, Kershaw should have at least six more seasons of prime before starting to slow down, assuming he's healthy, since he is only 25.
I'd be fine with making him the top paid pitcher ever and even going a good amount over the previous record-holder.
I'm thinking eight years and $240 million. That gives him the longest deal in years and the highest in terms of dollars -- also topping Verlander's average annual value.
After that, I'd be tapped out. The Dodgers already have $130-plus million committed to eight total players ... for 2017.
Dayn Perry: I'll get around to my numbers in a bit, but first I'd wait a while. There's no actual urgency to get this done over the offseason, and if I'm the Dodgers I want to see how Kershaw responds to throwing, counting the playoffs, 259 innings in 2013. He's got a lot of miles on that left arm. Perhaps he's the kind of physiologically gifted sort who never responds negatively to high workloads, but maybe he's not. If he gets hurt early in the season, or has some "hangover" struggles, then that affects our bargaining positions. I want as much time as possible to see what I'm paying for. Maybe Kershaw gets miffed and shuts down negotiations until after the season, as is his right. Even if he does that, money will talk. And he's stellar through the early months of 2014, then we talk based upon that. If he's hurt or less than his vintage self, then we talk based upon that. I'm assuming he's going to get hurt at some point over the course of the next contract he signs, but I want to wait as long as possible to see whether he holds up under his current deal. I generally don't like the idea of signing guys a year out from free agency, and I think that's especially critical with a pitcher who's going to command well in excess of $200 million.
All that said, if Kershaw stays healthy during this "monitoring" period and pitches true to form, then I'm prepared to go up to $250 million if I'm with the Dodgers' resources.
Snyder: Excellent point on waiting. Even if he puts up another Cy Young season, what team(s) would be willing and able to outbid the Dodgers? That's a very short list.
Mike Axisa: Well, what I'd initially offer and how far I'd be prepared to go are two different things. Felix Hernandez was only one year older than Kershaw is now when he signed his seven-year, $175 million contract earlier this year, so based on that, I'd start out at eight years and $200 million. How far would I be prepared to go? Pitchers tend break down and that's scary, but Kershaw is on a historic career path and I don't think you can treat him like every other hurler out there. I'd go ten years and $240-250 million without much of an argument. I don't think I could go any further than that though. It's one thing to set a new pitching record contract, it's another to blow the previous record out of the water.
Perry: Good point by Mike, and it should be noted that I'm not talking opening offer above. The $250 million figure is my upper limit in negotiations. With elite players, you have to know that long-term deals have their value for the team on the front end. It's probably not going to be a good deal on the back end, but with a player as young as Kershaw, it could be. I still assume some kind of major injury at some point.