All you need to know: MLB rumors, news roundup for Nov. 22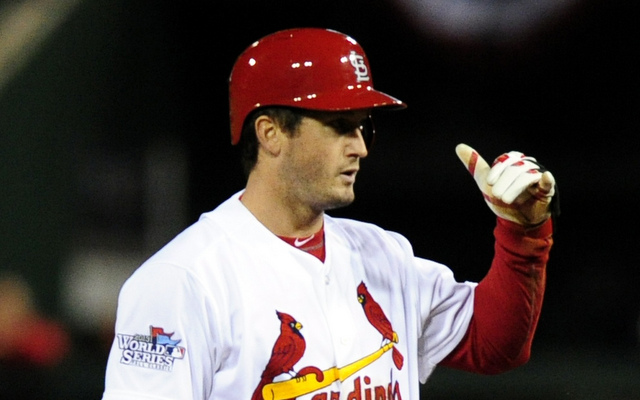 MORE: FA tracker: position players | FA tracker: pitchers
The offseason finally feels like it's in feel swing, doesn't it? Friday brought two trades and one free agent signing plus a whole bunch of juicy rumors.
As always, make sure you head over Jon Heyman's blog for the latest and greatest. Today he has news about a potential reunion between Carlos Beltran and the Royals. Here's a recap of the rest of Friday's action.
TRADES
• Cardinals: Traded 3B David Freese and RHP Fernando Salas to the Angels for CF Peter Bourjos and prospect OF Randal Grichuk.
• Red Sox: Acquired RHP Burke Badenhop from Brewers for prospect LHP Luis Ortega.
SIGNINGS
• Mets: Agreed to sign OF Chris Young to a one-year contract worth $7.25 million.
• Royals: Signed RHP Cory Wade to a minor league contract. He presumably received an invitation to spring training. (MLB Daily Dish)
• ROSTER CUTS
• IF Scott Sizemore: Elected free agency after being outrighted off the 40-man roster by the Athletics.
RUMORS & SPECULATION
• IF Jhonny Peralta: Has a four-year, $52 million offer in hand but is seeking $56 million across four years and as much as $75 million across five years.
• Angels: In an effort to rebuild their bullpen, they're looking at free agents RHP Joe Smith, LHP J.P. Howell, RHP Edward Mujica and RHP Joaquin Benoit.
• Mariners: Have interest in both RHP Grant Balfour and RHP Brian Wilson. (Fox Sports)
• Marlins: Made contact with IF Yuniesky Betancourt. (Miami Herald)
• Mets: Remain interested in OF Nelson Cruz even after signing Young. (Fox Sports)
• Nationals: They want to add a starting pitcher but do not want to forfeit their first round pick in next summer's draft. That rules out RHP Ubaldo Jimenez, RHP Ervin Santana and RHP Hiroki Kuroda, but leaves RHP Matt Garza and RHP Ricky Nolasco in play. (Washington Post)
• Red Sox: They're one of several teams to call the Dodgers about OF Matt Kemp.
• Twins: Interested in both RHP Gavin Floyd and LHP Chris Capuano. (St. Paul Pioneer Press)