Creating baseball's perfect center fielder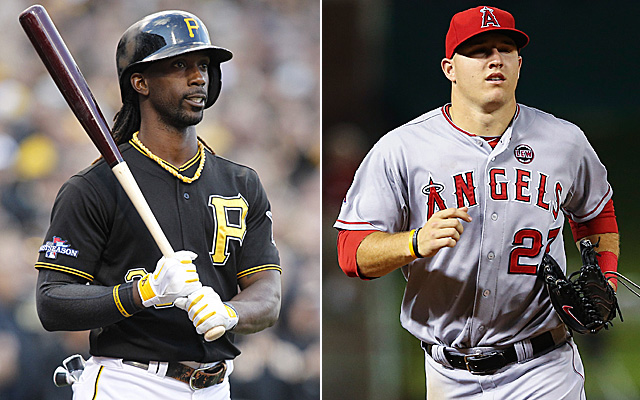 Creating the perfect: Catcher | First baseman | Second baseman | Shortstop | Third baseman | Left fielder
We're almost through the position players as we take a voyage through each position and attempt to create baseball's perfect player in each spot using the current crop of major leaguers. Next up is center field, a position that houses two of the best all-around players in baseball (see above!).
Let's dive in.
The perfect center fielder would have ...
Mike Trout's bat
Only two qualifying center fielders hit over .300 last season and both were well past the mark. Mike Trout hit .323 to Andrew McCutchen's .317 while also being superior in walk rate, on-base percentage and weighted on-base average (wOBA). McCutchen would be the easy choice at several other spots, but few in baseball handle the stick as well as Trout.
Also considered: Andrew McCutchen
Mike Trout's power
Get this: Of players who hit at least 18 home runs last season, Justin Upton, Giancarlo Stanton, Mark Trumbo and Mike Napoli finished two through five, respectively, in average home run distance. First place was Mike Trout. His .557 slugging percentage was best by a wide margin among qualifying center fielders, too. For as much credit as Trout rightfully gets in other aspects of his game, we cannot forget that he has a ton of power as well.
Also considered: Curtis Granderson, Adam Jones, Andrew McCutchen, Colby Rasmus, Will Venable
Billy Hamilton's speed
His lightning speed was seemingly already part of baseball lore before joining the majors, as Hamilton stole 155 bases in the minors in 2012. He swiped 75 bags in 90 chances in Triple-A last season before taking 13 in 14 chances in the majors in September. Though there are several other speedsters at this position, the Hamilton choice was among our easiest as he's probably the fastest player in the game today.
Also considered: Tony Campana, Jacoby Ellsbury, Ben Revere
Shin-Soo Choo's plate discipline
Due to a high walk rate -- and, yes, getting hit by a lot of pitches -- Choo was an on-base machine last season, posting a .423 OBP alongside a .285 batting average. That's not all, though, as Choo was the best among center fielders in only swinging at 22.1 percent of the pitches he saw outside the strike zone.
Also considered: Coco Crisp, Andrew McCutchen, Mike Trout
Carlos Gomez's glove
According to several advanced metrics (defensive runs saved, ultimate zone rating, etc.), Gomez was up there with Manny Machado and Andrelton Simmons as a top three defensive player in all of baseball in 2013. Gomez flashes incredible range along with excellent glove skills and rarely makes errors. He also possesses the ability to rise to the occasion. Remember this?
Also considered: Juan Lagares, Mike Trout
Rick Ankiel's arm
He used to be a pitcher, so this can't be a shocking selection. Ankiel has transitioned to outfield quite well in terms of how his arm plays, as he boasts perhaps the most feared arm in baseball, having posted 32 outfield assists in seven seasons without regular playing time.
How about some video evidence?
Also considered: Adam Jones, Juan Lagares, Leonys Martin
Andrew McCutchen's intangibles
The NL MVP exudes a quiet confidence that separates him from the pack. He's the superstar of the Pirates, a team that just snapped a two-decade drought of winning seasons by making the NLDS and nearly toppling the Cardinals. Being a 26-year-old leader of such a club has to mean something here, as his mental toughness can't be discounted.
Also considered: Mike Trout
Andrew McCutchen's durability
Though he's dealt with issues in his shoulder, knee, ankle and wrist, McCutchen has never been on the disabled list. He's averaged 156 games played in his four full seasons in the majors.
Also considered: Adam Jones, Mike Trout