Report: MLB's latest posting system proposal calls for bidding limit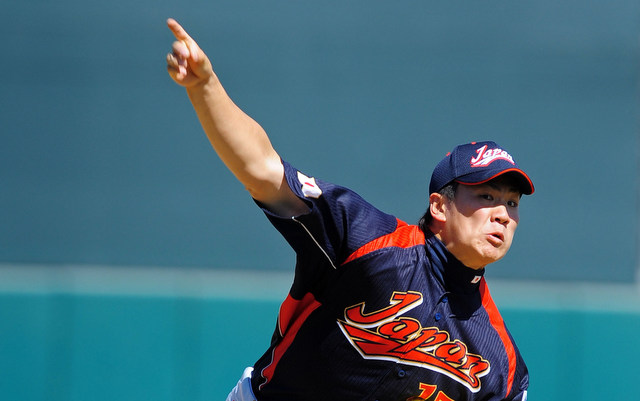 A few weeks ago, talks between Major League Baseball and Nippon Professional Baseball about a new posting system hit a snag. MLB reportedly grew impatient and felt NPB's officials were dragging their feet seeking approval and finalizing the agreement. As a result, MLB amended their proposal.
The two sides negotiated face-to-face before the Thanksgiving holiday last week and details of MLB's new proposal have come to light. Bill Shaikin of the Los Angeles Times has the scoop:
MLB proposes max bid on negotiating rights with Japanese players. #Dodgers or #Angels wouldn't be able to make blowout bid on Tanaka.

— Bill Shaikin (@BillShaikin) December 2, 2013
If multiple teams make max bid on Japanese player, he decides team with which he'll negotiate. If adopted, a bit of help for small markets.

— Bill Shaikin (@BillShaikin) December 2, 2013
Dylan Hernandez of the Los Angeles Times says the team with the worst record in the previous season would be awarded the player's negotiating rights in the event of multiple maximum bids, so there is some conflicting information out there.
Although the bidding limit is unknown -- I assume it would change each year with the market -- the new system is designed to give small market teams a better chance at landing top players from Japan. NPB has wanted their players to have some input in the process but they will still want to be able to get as much money in return as possible.
The only change under the previous proposal called for winning team to pay an average of the top two bids rather than the actual winning bid amount. That gives MLB clubs some protection against a Yu Darvish situation, when the Rangers reportedly bid $20+ million more than any other team. Sounds like that plan is off the table now.
Rakuten Golden Eagles ace Masahiro Tanaka is arguably the best available pitcher this offseason, but the 25-year-old can not come over to MLB until the two sides work out a new posting agreement. If no agreement is reached, he will have to wait until next offseason. The Dodgers and especially the Yankees are expected to pursue to the right-hander.
There is no indication a new agreement is imminent, nor is there any kind of timetable for a decision in place.