Doug Fister trade gives Nationals the best rotation in baseball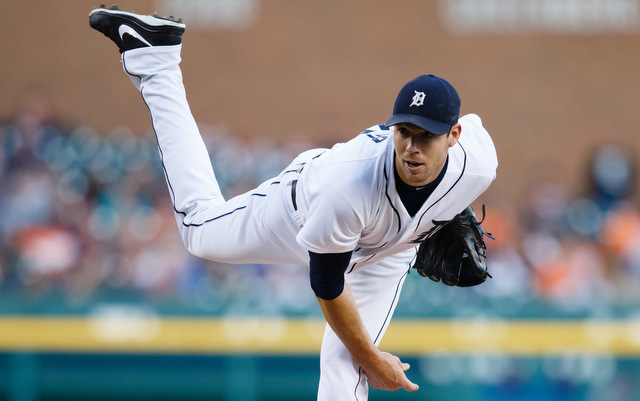 On Monday night, the Nationals acquired right-hander Doug Fister from the Tigers for two spare part big leaguers (Steve Lombardozzi and Ian Krol) and a really good left-handed pitching prospect (Robbie Ray). It's a done deal, not a rumor.
Courtesy of Baseball-Reference, here are baseball's 20 best pitchers over the last three seasons (min. 300 innings) in terms of ERA+, which is adjusted for ballpark and league:
Four of the top 20 (top 17, really) are now employed by the Nationals: Stephen Strasburg (No. 9), Gio Gonzalez (No. 13), Fister (No. 14) and Jordan Zimmermann (No. 17). If you prefer something more sophisticated like WAR, then the Nationals still have three of the top 18 and four of the top 42 starters* in baseball.
* Strasburg ranks 42nd in WAR only because he was returning from Tommy John surgery in 2011 and barely pitched (24 innings). He would have ranked much higher with a full, healthy season.
Either way, ERA+ or WAR, the Nationals now boast baseball's best rotation foursome, a title that used to belong to the Tigers, Fister's former team. Washington could use a potted plant as their fifth starter (not really) and they'd still have the best rotation in baseball, at least on paper. Credit GM Mike Rizzo for being aggressive and not being afraid to swap prospects for Gonzalez and Fister.
Obviously any talk about baseball's best rotation in December refers how to how each team looks on paper. Who knows what will happen once the season gets underway? Players (especially pitchers) have a tendency to get hurt and underperform for no apparent reason. For what it's worth, the Steamer projections at FanGraphs expect all four of these guys to post at least 2.5 WAR next season and that's really, really good.
The Nationals failed to live up to expectations in 2013 and most of that had to do with their disappointing offense (team 94 OPS+). The pitching staff wasn't a huge concern (team 106 ERA+) but Rizzo opted to turn a strength into a super strength -- the upgrade from 2012 Dan Haren (81 ERA+) to Fister figures to be enormous -- while hoping his offense improves with full seasons of Anthony Rendon and Bryce Harper in addition to a rebound from Adam LaRoche. There isn't a team in the league with a better collection of four starters and that alone is enough to make the Nats very dangerous in 2014.