Curtis Granderson deal as much about PR as production for Mets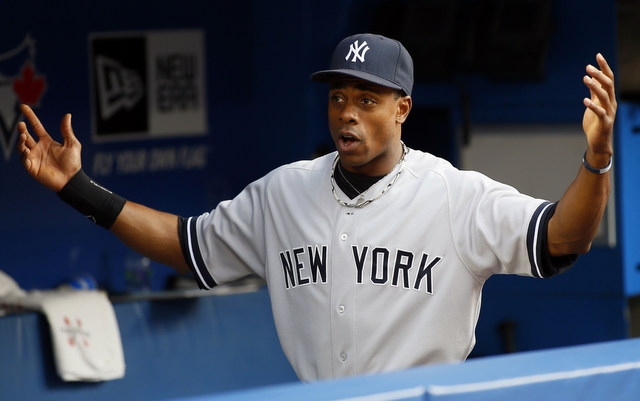 The baseball world had its eyes focused on New York on Friday, as Robinson Cano turned down the 10th largest contract in baseball history from the Yankees for the fourth largest contract in baseball history from the Mariners. Few moves are as monumental.
Across town, the Mets were busy signing a different player away from the Yankees, this one being outfielder Curtis Granderson. They gave the slugger a four-year contract worth $60 million, a relative pittance compared to Cano and Jacoby Ellsbury and guys like that. It is, however, the largest contract Mets GM Sandy Alderson has given to a free agent in his three years at helm.
From December 2010 through last offseason, Alderson spent a total (a total!) of $29.9 million on major league free agents. Reliever Frank Francisco was the only player to sign for more than $4 million during that time, receiving a two-year contract worth $12 million two years ago. That's less than $30 million across three offseasons for a team with a five-year old ballpark in the largest market in baseball.
Of course, the Mets were not spending out of necessity, not because they were cheap. Owners Fred and Jeff Wilpon lost millions in the Bernie Madoff scandal and the team's finances suffered. It wasn't until this winter that the massive contracts belonging Johan Santana and Jason Bay -- two sunk costs once Johan's shoulder gave out -- came off the books and free up some spending money.
Most fans are not sympathetic towards the Wilpons' cash flow problems. They just want their team to spend and win, and when they did neither, people stopped showing up to games. Attendance gradually declined from 39,118 fans per game (and a $152 million payroll) in 2009 to 26,366 fans per game ($69 million payroll) in 2013. The team wasn't spending or winning so fans lost interest. That's the way these things work.
By signing Granderson, the Wilpons and the Mets sent a message to fans that the team plans to spend again. Is Granderson alone going to turn the franchise around? No, of course not. But Matt Harvey and Zack Wheeler might, ditto prospects Noah Syndergaard and Rafael Montero. Jon Niese and David Wright are still around as well. That's a nice young core and the affable Granderson is one heck of a complementary piece. His signing is a message that the franchise is headed back in the right direction, a message they haven't been able to send for a half-decade now.