Like Cardinals after Pujols, Yankees turn to Beltran to replace Cano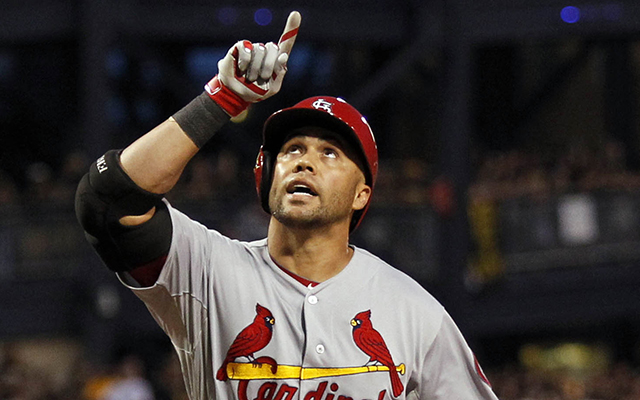 Two offseasons ago, the Cardinals turned to Carlos Beltran after Albert Pujols left as a free agent. Beltran put up a 128 OPS+ during his two years in St. Louis while Pujols has managed a 130 OPS+ with the Angels, though he has battled numerous injuries. The plan worked out well for the Cardinals.
On Friday, another team turned to Beltran to replace their homegrown star. The Yankees have agreed to sign the veteran outfielder to a three-year pact worth $45 million just a few hours after losing Robinson Cano to the Mariners. Will Beltran replace Cano's offense over the next three years? Almost certainly not -- he will turn 37 shortly after opening day and Cano has shown no signs of slipping -- but no one will replace Cano's offense.
The idea is the same as what the Cardinals did two years ago. A team lost its best and most recognizable player to a historic contract, so they turned to the steady and ultra-reliable Beltran as a short-term replacement. Is it the sexiest move? No, definitely not. Does it make sense? Sure does. The Yankees aren't going to be able replace Cano at all -- the best available free agent second baseman is Omar Infante -- so they're improving at other positions.
With Cano gone but Beltran, Brian McCann and Jacoby Ellsbury on board, the Yankees can trot out an everyday lineup along these lines:
CF Ellsbury
SS Derek Jeter
RF Beltran
C McCann
3B TBD -- assuming Alex Rodriguez's suspension is upheld
Given the age of the roster -- let's not sugercoat it: the Yankees are crazy old -- that DH spot figures to rotate around. Jeter will spend time there, Beltran will spend time there, McCann will spend time there, so on and so forth. Gardner could be traded for a pitcher, but if he's not, he could become something of a roving outfielder, switching between spots depending on who is at DH on a given day.
The Yankees had their worst offense in two decades last season, yet even without Cano they should score more runs in 2014. They've certainly added some length to their lineup this winter, that's for sure. They do need another starter -- they re-signed Hiroki Kuroda on Friday, but another arm is needed -- and some bullpen help (plus general depth), so their work isn't done this winter even though they've already added four free agents (including Kuroda).
Will it be enough to get them back into the postseason? Maybe not, but the Yankees are clearly doing all they can to get back into contention. Adding Beltran to replace Cano is a net downgrade but it's pretty much the next best thing.