Is Matt Kemp healthy enough to be traded?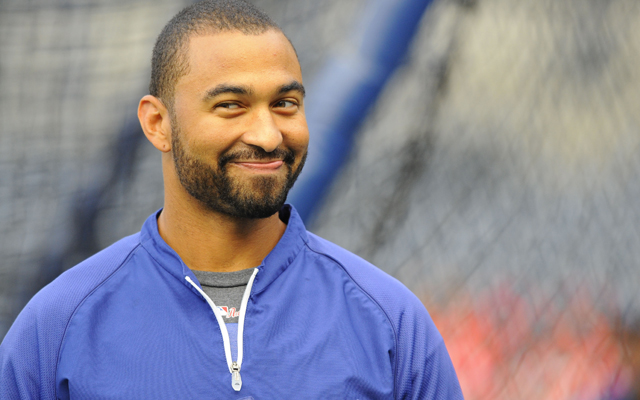 MORE: FA tracker: position players | FA tracker: pitchers | Winter Meetings updates
ORLANDO - The agent of Dodgers outfielder Matt Kemp -- former A's ace Dave Stewart -- decided to attend the Winter Meetings for the first time in his post-playing career due to the fact that he believes his client will be traded. There are just too many rumors out there for it not to happen, he told reporters.
But what if Kemp isn't healthy enough? A series of startling revelations came to light Monday.
First of all, Dodgers general manager Ned Colletti told MLB Network Radio that Kemp is still in a walking boot and won't be 100 percent in time for spring training. Given that this stemmed from a sprained ankle that initially happened months ago, that's a pretty bad sign.
Further, reports connecting Kemp to the Red Sox -- the team most rumored to be in on Kemp, arguably -- seem to have settled down. Manager John Farrell flat out shot down the rumors while ESPN Boston is reporting the following:
Kemp talks with Red Sox have not reached serious stage, and one Sox source said they're not going to

— Gordon Edes (@GordonEdes) December 9, 2013
Additionally, injury expert Will Carroll is reporting the following:
Teams asking about Matt kemp out after seeing medicals. Not good.

— Will Carroll (@injuryexpert) December 9, 2013
Uh oh.
The Dodgers still seem dead set on trading one of their four starting-caliber outfielders, with Kemp and Andre Ethier being the names most mentioned in rumors. Would they really deal Ethier if Kemp was such a damaged good?
Obviously the situation is complex, but there are certainly some red flags here when it comes to Kemp's health.
Remember, Kemp was among baseball's most durable players for years. He averaged 159 games played per season from 2008-11. In 2012, though, hamstring issues plagued him before he crashed into a wall and messed up his shoulder. This past season, multiple issues held him to just 73 games, including the shoulder and ankle injuries.
When completely healthy, Kemp is capable of being a top five player. He was the MVP runner up in 2011 when he hit .324/.399/.586 (172 OPS+) with 39 homers, 126 RBI and 40 steals. Last season, though, Kemp hit just .270/.328/.395 (105 OPS+) with six homers and nine steals.
Kemp still has six years and $128 million left on his contract, which does not contain a no-trade clause.