Adding Aoki allows Royals to drop Gordon down in order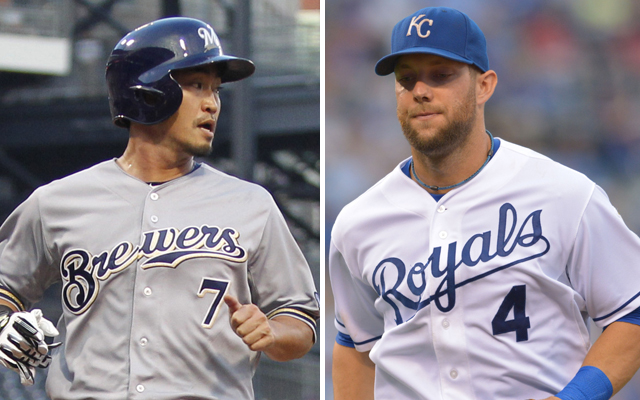 MORE: FA tracker: position players | FA tracker: pitchers | Winter Meetings updates
ORLANDO - In the past two seasons, Royals left fielder Alex Gordon has been slotted as the leadoff man 200 times. This is the same Alex Gordon who has 123 doubles, 15 triples and 57 homers in the past three seasons with a .459 slugging percentage.
That is, conventional wisdom says that someone with Gordon's solid power should be in more of a run-producing spot in the batting order instead of hitting leadoff, where he's considered a table-setter.
Now that the Royals have Norichika Aoki in the fold, Gordon can safely be dropped down.
"We always felt all along that Alex was our best option as a leadoff guy because he was an on-base guy," Royals manager Ned Yost said. "But we also felt Alex was a middle-of-the-order bat, a run producer."
"The positive is that Aoki gives us a bona fide leadoff guy," he said. "He's an on-base guy. He's a table-setter -- somebody that we look to get on base for our run producers and score more runs."
Indeed, Aoki walked 55 times -- against only 40 strikeouts -- last season, giving him a .356 on-base percentage against a .286 average. He'll make an excellent table-setter in front of the likes of Gordon, Eric Hosmer, Billy Butler and Salvador Perez.
Yost noted that he's thinking about Emilio Bonifacio as his two-hole hitter, giving the Royals lots of speed atop the order. He'd then follow with Hosmer in the three-hole and some combination of Gordon, Butler and Perez 4-5-6 in the order.
That's already much better shape than the Royals were last year on offense, when they finished 11th in the AL in runs scored while going 86-76. The offseason is far from over and the Royals don't look substantially better with the addition of Aoki, but he does give them a more well-rounded lineup.