McClendon talks Cano, leadership, smoking cigars in underwear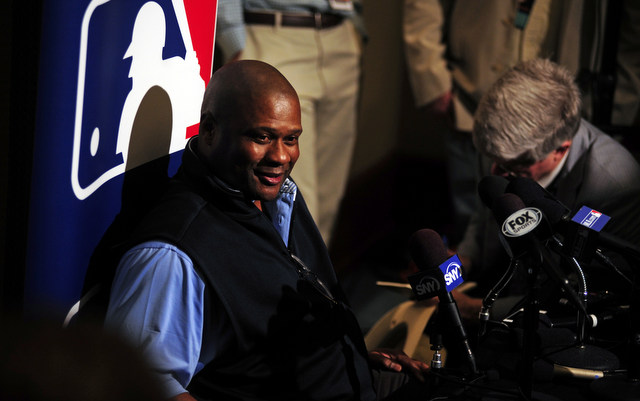 MORE: FA tracker: position players | FA tracker: pitchers | Winter Meetings updates
ORLANDO - New Seattle Mariners skipper Lloyd McClendon held his media session Tuesday during the Winter Meetings, and it was a veritable Tour de Force. He was laid back, funny and insightful.
Some of the best comments are as follows.
On signing Robinson Cano: "I would say we got better, and I got smarter real quick."
On what he's heard from Mariners players since being hired: "They love their new skipper, obviously."
On how he might be a better manager than his stint with the Pirates: "Get better players. A guy like Robinson Cano makes you real smart, real quick."
On where Cano might bat in the order: "He can bat wherever he wants to bat. I told him in the office, I said that couch over there is mine and that one's yours -- but if you'd like to have that one, you can have that one, too."
On needing talent to win: "Chuck Tanner told me a long time ago, donkeys don't win the Kentucky Derby. Thoroughbreds do."
On player leadership: "I hear that all the time: 'Who is going to be your leader?' I hope [Cano] leads on the field. I'll do the cheerleading and leading in the clubhouse. I want guys on the field that can hit three-run home runs, drive in a run from second base with two outs and two strikes in the ninth inning. Those, to me, are the guys that lead by example on the field. I don't need guys to lead in the clubhouse. I'll do that. I need the guys to do it on the field."
On what he learned from Jim Leyland: "You know, he's probably going to be pissed at me, but I joked about this at my news conference: I learned how to smoke cigars in my underwear."
NOTE: McClendon went on to speak very, very highly of Leyland in a serious manner, so that first line was just a good-spirited joke among friends.
On instant replay: "It will probably save me a lot of money. I don't see any bases in my future."
That's OK, Lloyd, we've got you covered with our Bobblehead Project: