Roenicke: Ryan Braun made mistake, but is a 'good young man'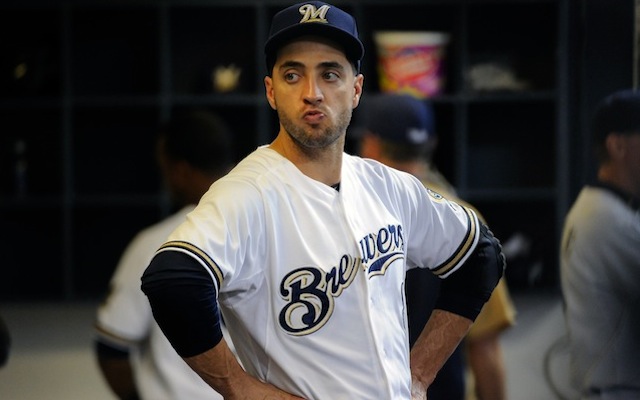 MORE: FA tracker: position players | FA tracker: pitchers | Winter Meetings updates
ORLANDO -- One of the more intriguing storylines moving toward the season with the Milwaukee Brewers is the return of star outfielder Ryan Braun from his season-ending, 65-game suspension for his ties to Biogenesis.
Specifically, it appears Braun actually was guilty back in the 2011 playoffs when he failed a drug test -- even though he eventually won his arbitration case and staunchly proclaimed his innocence.
Not surprisingly, since the suspension came down and Braun admitted wrongdoing -- without getting into specifics -- outcry among fans and some media has been high.
Tuesday at the Winter Meetings, Brewers manager Ron Roenicke took to defending his player.
"If you are OK with people making mistakes -- which I certainly am -- you've got to look at what kind of person this guy is," Roenicke said. "This is a good guy."
"Everybody knows he did some things he shouldn't have done and we move on."
As far as Braun's relationship with his teammates, Roenicke doesn't anticipate that being an issue.
"I don't think it will be an issue with the players," said the manager. "But I'm wondering what will happen with the fans. I've said this many times -- you guys have heard me say it -- this is a really good young man. He made a mistake, but this is a really good young man."
In terms of how Braun has refused to get into specifics about when he used PEDs, when he stopped, what was his exact relationship with Anthony Bosch, etc., Roenicke again defended his player.
"Anything he says at this point about what happened is never going to satisfy everybody. All it's going to do is start up new controversy. It's going to come across as negative to somebody in the press.
"And for him to go through that stuff again, to tell you the truth, I don't think he needs to go there."
"There are some things that I don't know if we know completely what happened and why he made comments," Roenicke continued. "And to be honest, I really don't need to know. He made a mistake. That's all I need to know is how is he going to be when he comes back? How is he going to go about his relationship with players, fans, management? I know he's going to be physically ready to go after it. He's a hard worker. He's a good, young man."
We'll see how well all this goes over heading into the 2014 season, but it seems like many fans and media are much more forgiving for, say, a DUI than PED use. Many seem to never forgive or forget, and Braun will likely always have to deal with that reality -- regardless of whether or not his manager supports him.