MLB set to ban home-plate collisions, needs MLBPA approval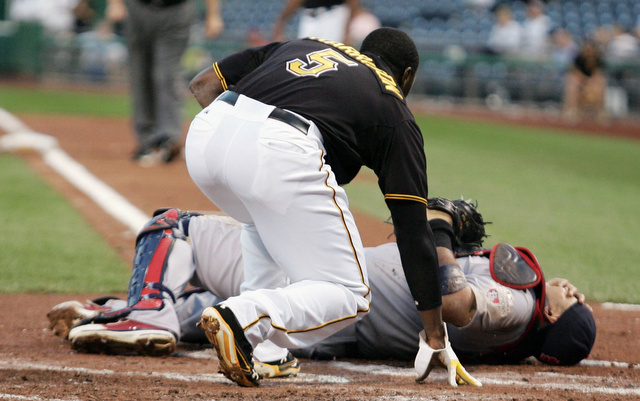 MORE: FA tracker: position players | FA tracker: pitchers | Winter Meetings updates
ORLANDO - In a press conference with MLB executive vice president of baseball operations and Mets general manager Sandy Alderson, Major League Baseball announced that it has approved a ban on home-plate collisions in which the baserunner plows over the catcher in an attempt to jar the ball loose.
"This is, I think, in response to a few issues that have arisen," Alderson said in the press conference. "One is just the general occurrence of injuries from these incidents at home plate that affects players, both runners and catchers -- and also the general concern about concussions that exists not only in baseball but throughout professional sports and amateur sports today. It's an emerging issue and one that we in baseball have to address as well as other sports. So that's part of the impetus for this rule change as well."
The deal won't be official for the 2014 season until the MLB Players Association approves it, but that is the final hurdle and MLB can compel a move if not approved by the MLBPA in time for the 2015 season. The rule will be formally presented to the MLBPA in January, but, again, even if they vote it down, MLB can unilaterally implement the rule for the 2015 season.
So, macho men, get your pitchforks. This thing is happening.
Moving forward, the rule will be that runners have to slide if there's a play at the plate. Also of note here is that catcher's blocking the plate without the ball is technically supposed to be an obstruction call -- but due to the baseball world having accepted the collision at home plate for so long, it's one of those rules that isn't really enforced.
As stated in Rule 7.06(b):
The catcher, without the ball in his possession, has no right to block the pathway of the runner attempting to score. The base line belongs to the runner and the catcher should be there only when he is fielding a ball or when he already has the ball in his hand.
With players now facing fines and possible suspensions for violating the new rule, expect the flip-side to be obstruction by the catcher being enforced.
The new rule is not finalized, though.
"The exact language and how exactly the rule will be enforced is subject to final determination," Alderson said. "We're going to do a fairly extensive review of the types of plays that occur at home plate to determine which we're going to find acceptable and which are going to be prohibited."
Alderson noted the rule will go through a final draft -- once they determine exactly what plays will be legal and what will be illegal -- and then run through the rules committee before being presented to the MLBPA. It sounds like the league has every intent of getting this done soon, though, and the players are expected to approve it.