All you need to know: MLB news and rumors roundup for Dec. 18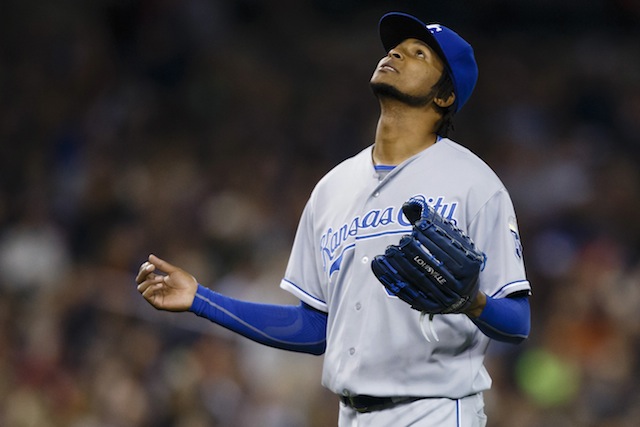 MORE: FA tracker: position players | FA tracker: pitchers
Wednesday was indeed a busy one when it comes to offseason goings-on, so let's run down all the hot stove news and scuttle you need to know for Dec. 18 ...
SIGNINGS & AGREEMENTS
- Luke Scott: The veteran 1B/OF/DH signed with the SK Wyverns in Korea.
- Angels: Agreed to terms with free agent DH Raul Ibanez on a one-year contract.
- Cubs: Have signed LHP Jonathan Sanchez to a minor-league contract.
- Diamondbacks: Agreed to terms with 3B Eric Chavez on a new contract, likely for one year.
- Mariners: Finalized a one-year contract with OF Franklin Gutierrez.
- Marlins: Have agreed to terms with IF Casey McGehee on a one-year contract.
- Padres: Have agreed to terms with reliever/closer Joaquin Benoit on a two-year contract.
TRADES
- Astros-Padres: The Astros acquire 1B Jesus Guzman from the Padres in exchange for minor-league SS/3B Ryan Jackson.
- Braves-Twins: Atlanta gets C/OF Ryan Doumit from the Twins in exchange for lefty prospect Sean Gilmartin.
- Indians-Rockies: Colorado acquired OF Drew Stubbs from the Indians in exchange for LHP Josh Outman.
- Orioles-Royals: Baltimore acquires OF David Lough from the Royals in exchange for 3B Danny Valencia.
- Red Sox-Rockies: Boston sent LHP Franklin Morales and RHP Chris Martin to Colorado for IF Jonathan Herrera.
RUMORS, SPECULATION, ETC.
- Ryan Madson: The former closer is holding private workouts for interested teams and hoping to sign somewhere this offseason, reports Jon Heyman.
- Kurt Suzuki: The Cubs, Twins and Mariners have all been reported recently to have interest in the veteran catcher.
- Masahiro Tanaka: The coveted right-hander's current club, the Rakuten Golden Eagles, are reportedly set to make Tanaka an offer of roughly $8 million USD to stay in Japan for another season. Tanaka has previously expressed his desire to be posted and pitch in the U.S. starting in 2014.
- Michael Young: The Brewers, Dodgers and Rockies are all interested in Young at present. (Ken Rosenthal via Twitter)
- Athletics: The owners of the NBA's Golden State Warriors may have interest in purchasing the A's and keeping them in Oakland.
- Diamondbacks: GM Kevin Towers says his team is still interested in two of the following three pitchers: Masahiro Tanaka, Ervin Santana and Matt Garza. (Jim Bowden via Twitter)
- Mariners: Seattle reportedly has interest in signing free agent RHP Ervin Santana ... IF Nick Franklin is of significant interest on the trade market, tweets Ken Rosenthal.
- Red Sox: Still have interest in bringing back SS Stephen Drew, tweets our own Jon Heyman.
- Yankees: Earlier this offseason, Shin-Soo Choo reportedly turned down a seven-year, $140-million offer from the Yanks. At this writing, Choo remains unsigned.