IMPORTANT GIF: Frank Thomas, Hall of Fame pillow-fighter
MORE: Maddux, Glavine, Thomas elected to Hall of Fame
Frank Thomas has of course been freshly elected to the Baseball Hall of Fame. In large part, this is because of his tremendous power. As you'll soon see, that power of his has uses beyond the diamond ...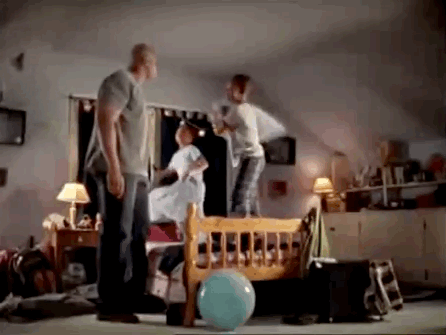 Take that, meddlesome human children.
Actually, the Big Hurt is not meting out harsh discipline upon his male spawn. Rather, he's in a Blue Jays commercial back when he played for, you know, the Blue Jays.
That said, Frank Thomas is not a man to be trifled with, whether on the baseball diamond or within the remorseless cauldron of glorious combat that is one's own home.