All you need to know: MLB rumors, news roundup for Jan. 10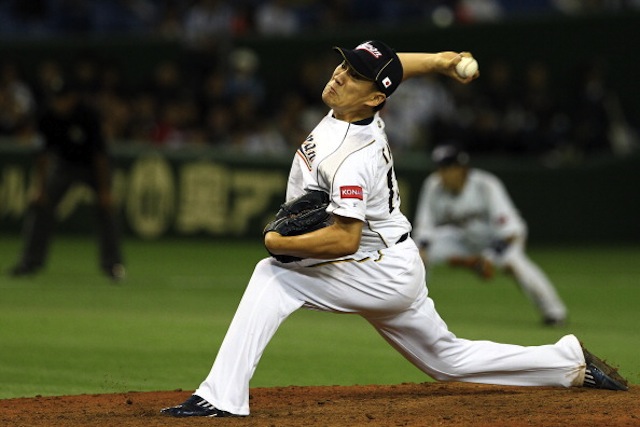 MORE: FA tracker: position players | FA tracker: pitchers
On the MLB hot stove front, here's all that's worth knowing for Thursday, Jan. 9 ...
SIGNINGS & AGREEMENTS
- Giants: Have signed veteran lefty Dontrelle Willis to a minor-league contract.
- Nationals: Avoided arbitration with RHP Stephen Strasburg by signing him to a one-year, $3.975-million contract, plus incentives.
- Orioles: Have signed INF Alexi Casilla to a minor-league contract.
- Padres: Have signed reliever Blaine Boyer to a minor-league contract.
RUMORS, SPECULATION, ETC.
- David Price: According to GMs who spoke to ESPN's Jim Bowden, the Mariners and Diamondbacks are the two teams best equipped to trade for the Rays' lefty ace. Bowden himself names the Dodgers as a strong possible suitor.
- Masahiro Tanaka: Sources tell John Shea of the San Francisco Chronicle that Tanaka, at this very early stage, prefers to play in Los Angeles, New York or Boston ... Elsewhere, the Dodgers will reportedly "go all out" in their efforts to sign coveted Japanese right-hander ... Paul Hoynes of the Cleveland Plain Dealer writes that the Indians have been in touch with Tanaka's agent, Casey Close, and may soon meet with Tanaka. While Hoynes acknowledges the Tribe's chances of signing Tanaka are remote, he writes that it's possible they'll make a strong long-term offer to him ... A source tells Patrick Mooney of CSN Chicago that the Cubs are willing to make Tanaka a nine-figure offer.
- Suk-Min Yoon: Peter Gammons reports that the Red Sox and Twins are among the teams interested in signing the Korean right-hander.
- Indians: Paul Hoynes of the Cleveland Plain Dealer writes that the Indians may soon talk long-term contract with arbitration-eligible right-hander Justin Masterson.
- Mariners: Greg Johns of MLB.com writes that the M's are likely to find their new team president from within the organization. That would mean that Tony La Russa, a rumored candidate for the job, wouldn't be tabbed to replace the outgoing Chuck Armstrong.
- Mets: The Mets may have some interest in free agent RHP Freddy Garcia. (Adam Rubin, ESPN New York)
- Orioles: The O's have interest in free agent DH Kendrys Morales, but they hesitate to give up a compensatory draft pick in order to sign him. (Britt Ghiroli, MLB.com)
- Rangers: Bad news for Texas, as LHP Derek Holland could miss half the 2014 season after undergoing surgery to repair ligaments in his left knee. On Tuesday, Holland suffered the injury when he fell at home.
- Red Sox: GM Ben Cherington says talks with DH David Ortiz regarding a contract extension are likely to continue into the regular season. (WEEI)
- Reds: RHP Homer Bailey tells Ken Rosenthal of FoxSports.com that he wants to remain in Cincinnati.
- Rockies: RHP Rafael Betancourt, who's recovering from Tommy John surgery, says if he pitches again, then it will be with the Rockies. (Troy Renck, Denver Post)
- Yankees: The AP's Ronald Blum writes that arbitrator Frederic Horowitz may rule as soon as this weekend on Alex Rodriguez's 211-game suspension for his alleged role in the Biogenesis scandal. Horowitz can rule to uphold or lessen the suspension that MLB handed down last year ... The Yankees on Friday designated outfielder Vernon Wells for assignment.