All you need to know: MLB news, rumors for Jan. 13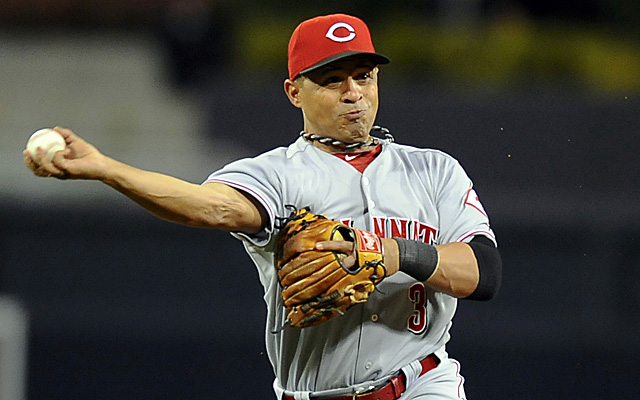 MORE: FA tracker: position players | FA tracker: pitchers
We're just over a month until pitchers and catchers report to camp and there are still several big-name free agents available. That didn't change Monday, but there were a few minor moves. Let's take our daily look.
SIGNINGS
•Astros: They have agreed to sign utility infielder Cesar Izturis to a minor-league deal, reports Jon Heyman.
•Orioles: Delmon Young has been signed to a minor-league deal, the club announced Monday.
•Phillies: The club has inked utility infielder Ronny Cedeno to a minor-league deal, reports Ken Rosenthal of Fox Sports.
•Reds: Jeff Francis has been signed to a minor-league deal, according to Jerry Crasnick of ESPN.com.
AVIODING ARBITRATION
•White Sox: They came to terms with Dayan Viciedo for $2.8 million for this season, per Heyman.
REPORTS, RUMORS AND SPECULATION
•Mark Reynolds: A handful of teams have been checking in on Reynolds, per Heyman, including the Nationals, Rangers, Twins, Orioles and Yankees.
•Masahiro Tanaka: Let's keep in mind that it's a very tough read right now and tons of reports are contradicting each other on a daily basis. The latest batch included the Dodgers and Yankees as favorites (New York Times) to land the Japanese import. Oh, and also the Angels (Angels.com). But Angels GM Jerry Dipoto told the Los Angeles Times that his club wasn't one of the teams that met with Tanaka last week in LA.
•Cubs: The plan is for Javier Baez, one of baseball's top prospects, to begin the 2014 season in Triple-A, with performance dictating if/when he's promoted to the majors, according to Cubs.com.
•Orioles: The focus for now is on starting pitching -- not a closer -- and a backup catcher, according to the Baltimore Sun. Remember, the deal for Grant Balfour fell through as the Orioles didn't like his medicals. But now, according to this report, the O's are content with in-house closing options. Also, former DH Jack Cust will work out for the club Tuesday. He reached out to the club himself, according to Roch Kubatko of MASN.
•Padres/Yankees: The Yankees have inquired with the Yankees about some infield depth, with the most likely target being youngster Logan Forsythe, according to Jon Morosi of Fox Sports.