Report: Dodgers, Clayton Kershaw nearing record extension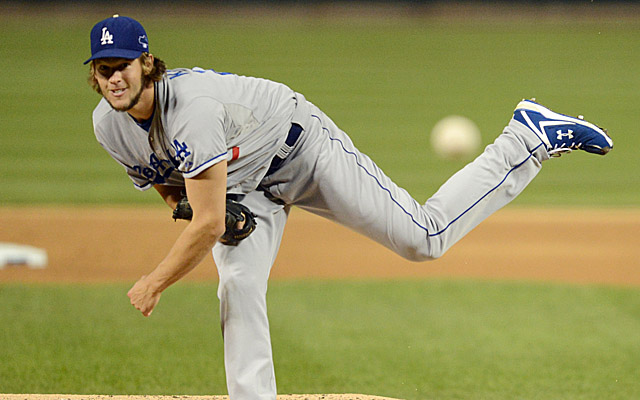 MORE: FA tracker: position players | FA tracker: pitchers
The Dodgers and ace Clayton Kershaw are nearing a contract extension that would be a record deal for a pitcher, reports Ken Rosenthal of Fox Sports. Per Rosenthal, the Dodgers would like to have a deal done by Friday at 1:00 p.m. ET in order to avoid exchanging arbitration figures with the lefty. Jon Heyman of CBSSports.com can confirm that talks are indeed serious at this point in time.
Kershaw is in his last year of arbitration before being set to hit the free agency market after this coming season, although the Dodgers would obviously love to avoid that situation.
The previous high contract for a pitcher would be Justin Verlander's seven-year, $180 million extension with the Tigers. According to Rosenthal, that could be dwarfed here. To wit:
Kershaw and the Dodgers discussed a variety of proposals early in the negotiations, including 10 years, $250 million and $12 years, $300 million, sources said.
Kershaw, 25, was 16-9 with a 1.83 ERA (194 ERA+), 0.92 WHIP and 232 strikeouts in 236 innings. He won the Cy Young for the second time in the past three seasons, with the other season resulting in a runner-up finish.
Kershaw has led the majors in ERA for three straight years. He's led the NL in WHIP three straight seasons and strikeouts two of the past three years.
Basically, over the past three years, Kershaw has been the best pitcher in baseball. And he's only 25 years old.
Another layer of intrigue here is the possible impact a megadeal to Kershaw has on the Dodgers' reported pursuit of Japanese import Masahiro Tanaka. The Dodgers are unbelievably loaded, but at some point the money has to be limited, no? The best guess is that a long-term Kershaw deal is good news for the likes of the Yankees, Cubs, Mariners and anyone else vying for the services of Tanaka.
Stay tuned.