History bodes well for Dodgers, Kershaw during life of extension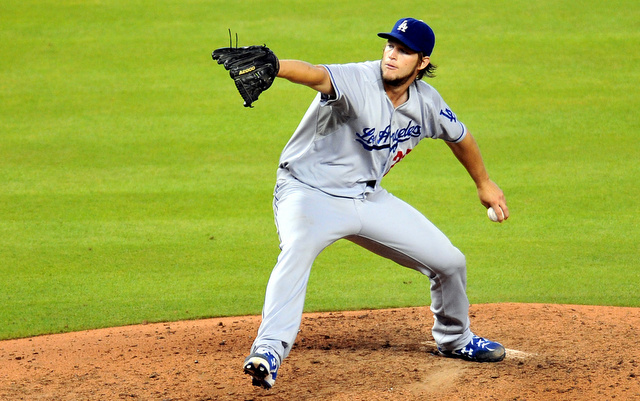 MORE: Dodgers, Kershaw agree to deal | Great deal for Kershaw, necessary for Dodgers
On Wednesday afternoon, the Dodgers agreed to make the best pitcher in the world the highest paid pitcher in baseball history. The team has agreed to a seven-year, $215 million extension with Clayton Kershaw, though the deal allows the left-hander to opt out after five years. Either way, he's handsomely paid and staying in Los Angeles for the foreseeable future.
Kershaw, as my colleague Matt Snyder explained in November, is not just great. He's historically great. It's a Hall of Fame career path to date. In fact, Kershaw is one of only 10 pitchers during the Expansion Era (1961 to present) to amass 27 career WAR before turning 26. Just 10 guys in the last half-century. That's it.
How did those other nine pitchers fare from ages 26-30, the years covered by Kershaw's contract before the opt-out clause comes into play? Let's look:
Pitchers with 27+ WAR before turning 26
Pitcher
Innings
WAR thru 25
WAR from 26-30
Bert Blyleven
1,909
44.0
21.3
Dwight Gooden
1,523 2/3
33.2
8.4
Frank Tanana
1,411 1/3
32.5
13.0
Bret Saberhagen
1,329
32.3
18.2
Clayton Kershaw
1,180
32.2
?
Dennis Eckersley
1,346
30.0
13.7
Roger Clemens
1.031 1/3
30.0
35.6
Felix Hernandez
1,388 1/3
28.7
9.9*
Fernando Valenzuela
1,554 2/3
27.9
4.7
Larry Dierker
1,624
27.6
6.7
* And counting.
Those are some seriously brand names. Three Hall of Famers (if you take Clemens' career at face value) and several of the best young phenoms we'll ever see.
Blyleven, Saberhagen and especially Clemens carried their dominance right through age 30 while Tanana and Eckersley were merely very good from 26-30 and not historically great. Doc had some off-the-field issues derail his career while Valenzuela and Dierker broke down. Felix is only 27 and so far things are looking pretty great for him.
This exercise doesn't tell us much about how Kershaw will perform these next five years. All this tells us is that similar pitchers through age 25 remained very productive through age 30 as long as they stayed healthy and out of trouble off the field. It's certainly preferable to seeing a bunch of guys who crashed and burned after 25, that's for sure.
Kershaw is a unique individual and a unique player who will forge his own career path. He is not the next Clemens or the next Valenzuela or the next anything. He's the first Clayton Kershaw and he's done things very few have ever done this early in his career. The smart money is on him continuing to do things that have rarely been done before.