Yankees improve despite letting best player walk this offseason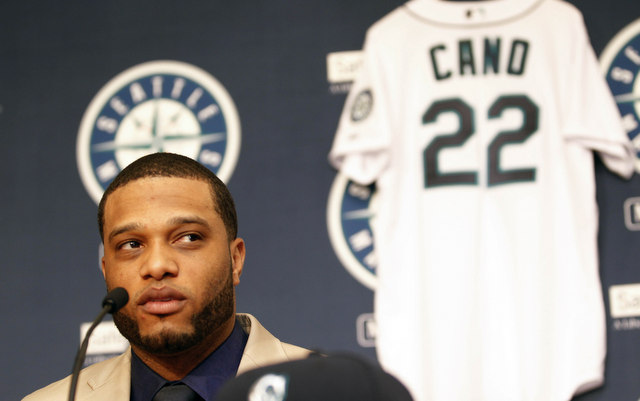 MORE: Yankees agree to deal with Tanaka | Spending spree doesn't trump question marks
Money sure can solve a lot of problems.
For the second time in the last six years, the Yankees responded to missing the postseason -- the only two times they failed to qualify for the playoffs in the last 18 years -- by handing out more than $400 million in contract commitments. During the 2008-09 offseason it was CC Sabathia, A.J. Burnett and Mark Teixeira. This offseason that money went to Brian McCann, Jacoby Ellsbury, Carlos Beltran and newest addition Masahiro Tanaka.
The Yankees won the Tanaka sweepstakes on Wednesday with a seven-year, $155 million contract that includes an opt-out after the fourth year. He was reportedly their top target this winter and following some posting system related delays, they finally landed him. Tanaka will join Sabathia, Hiroki Kuroda and Ivan Nova in the first four spots of the team's rotation.
Remarkably, the Yankees managed to spend all that money this winter without handing out the offseason's largest contract. That would be the ten-year, $240 million deal the Mariners gave to Robinson Cano, stealing him away from New York. The Yankees lost their best player this offseason but by spreading some money around to several different positions, they were still able to upgrade their roster overall. That's the only way they were going to improve in the first place.
Despite winning 85 games, the Yankees were truly awful at several positions in 2013. Their catchers, first basemen, shortstops, left fielders and right fielders all ranked no better than 22nd best in baseball in WAR, according to FanGraphs. That's five of the eight non-pitcher positions right there, all well-below-average. Those were obvious spots to upgrade and that's what the team did by signing a catcher (Brian McCann) and two outfielders (Jacoby Ellsbury and Carlos Beltran). Upgrades at first and short will come in the form of Mark Teixeira and Derek Jeter, respectively, as they return from injury.
Here is a real quick and dirty look at the positions the Yankees upgraded this winter, and how their projected 2014 production (using ZiPS) compares to what they received in 2013:
* Ellsbury is essentially replacing Wells in the lineup since Brett Gardner is sliding from center to left field.
Like I said, this is a real quick and dirty comparison. Going from Cano to Roberts is a huge hit, but the upgrades at catcher and left field* are significant, right field and third base slightly less so. The guys they brought in were expected to equal last year's production even before adding Tanaka. They already broke even and Tanaka is all profit, in a sense.
Now, things aren't this simple, obviously. The Yankees still have to replace Mariano Rivera -- David Robertson will step in as closer, but the team is still losing an elite reliever -- and guys like Sabathia and Kuroda could decline after aging another year. Teixeira and Jeter are no lock to be better than the guys the team had a first base and shortstop last year, respectively, but the bar wasn't set real high in the first place. The team will have a full year of Alfonso Soriano but they're also losing whatever they would have gotten out of the better than he gets credit for Alex Rodriguez.
Are the Yankees a playoff team after making all these moves and spending all that money? I don't know. I do know their chances of qualifying for the postseason right now are way better than they were 24 hours ago, before Tanaka agreed to sign. Would their chances have been better had they retained Cano? Absolutely, but the Mariners did blow everyone out of the water. Retaining Cano probably means no Ellsbury and Beltran, for example. The Yankees were going to spend a boatload of cash no matter what this winter, but rather than sink most of it into Cano, they spread it out a bit and improved several positions, which is what they needed most.