Kenta Maeda: The next big NPB export now that Tanaka has signed?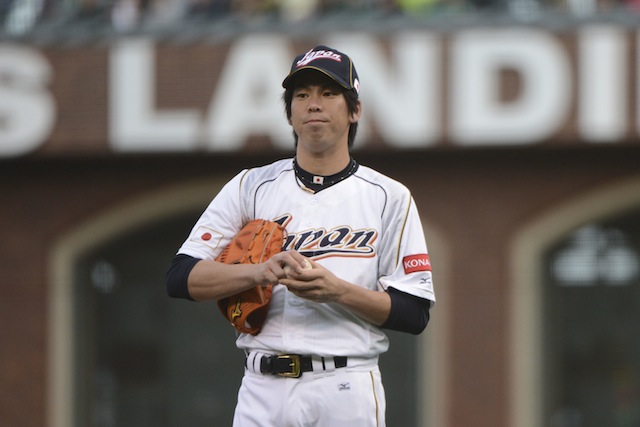 MORE: Comparing Tanaka to past NPB-MLB talents
We had an idea that the freshly negotiated posting system, which sets the maximum posting fee for incoming Japanese free agents at $20 million, would make MLB a more enticing destination for the island nation's baseball talent. Masahiro Tanaka's recent inking of a seven-year, $155-million pact with the Yankees, which includes a potentially lucrative opt-out after four seasons, reinforced those notions. As such, the question, insofar as the top talents in Nippon Professional Baseball (NPB) are concerned, is this: who's the next big name likely to make the leap?
The answer may be Hiroshima Carp right-hander Kenta Maeda. Meada, who, like Tanaka, is just 25 years of age, has already stated publicly that he wants to be posted, and there was even speculation that he'd be posted this offseason after the new system was put in place. That seems unlikely to happen, obviously, but there's a very strong chance that Maeda will be made available to MLB clubs prior to the 2015 season.
By way of introduction, here's a look at Maeda's baffling the Dutch in the 2013 World Baseball Classic ...
As for the numbers, here's how Maeda compares to the recently signed Tanaka, in terms of both career and 2013 performance in NPB ...
Maeda vs. Tanaka in NPB
Player
IP
ERA
K/9
BB/9
WHIP
Maeda 2013
175 2/3
2.10
8.1
2.0
0.962
Tanaka 2013
212
1.27
7.8
1.4
0.94
Maeda career
1,116 1/3
2.41
7.2
1.9
1.05
Tanaka career
1,315
2.30
8.5
1.9
1.11
As you can see, there are quite a few at-a-glance similarities in terms of keeping runs off the board and demonstrating command. One thing of note is that Tanaka's strikeout numbers have generally been trending downward over the last three years, so that gap between the career K rates may not be quite so wide in the here and now.
Of course, with NPB talents the numbers tell but trace elements of the story. To remedy that, here are some scouting notes on Maeda from Baseball America's most excellent Ben Badler:
Maeda is a slightly-built 6 feet, 160 pounds and throws around 87-93 mph with good sink and run, though he doesn't get great angle on his fastball. He's a good athlete, which helps him repeat his delivery and thrive when his command, which can be plus at times, is on point. Maeda doesn't have one knockout secondary pitch, but he has a solid-average slider and mixes in a curveball and a changeup as well.
As Badler suggests, Maeda is giving away two inches and almost 50 pounds to Tanaka, who, let it be said, is not especially big-framed by the standards of MLB right-handers. As such, U.S. evaluators may have some concerns about Maeda's ability to withstand stateside workloads. Badler also notes that Maeda lacks a true wipeout pitch like, say, Tanaka's splitter.
Given all that, Maeda will likely profile as a mid-rotation guy in MLB -- not a certifiable ace like Yu Darvish and not a strong no. 2 like Tanaka. That, however, is not a stinging indictment. As hurlers like Ricky Nolasco and Matt Garza have proved this winter, there's lots of money to be made as a three or four guy. Adding to Maeda's appeal is that, as noted, he'll be just 26 years of age should he hit the U.S. market next offseason. For what it's worth, NOM Projections forecasts Maeda for a comfortably sub-4.00 in MLB right now.
Much, of course, depends on how Maeda fares in the NPB season to come, and some surely depends on how Tanaka fares in the MLB season to come. Also to be considered is that next winter's crop of free agent starters is potentially a strong one. That is, Maeda, unlike Tanaka, isn't going to have the "best on the market" designation going for him.
With that said, he's going to have plenty of suitors, and right now Maeda -- in terms of both performance outlook and stated desire to test his mettle against the best -- can be rightly termed the next big thing from Japan.