Wednesday was a good day to be named Chad Tracy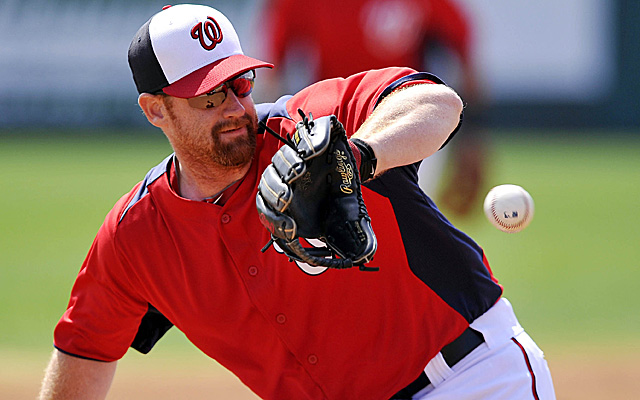 MORE: FA tracker: position players | FA tracker: pitchers
If you were named Chad Tracy and looking for a job in professional baseball, odds were you found it Wednesday.
The Chad Tracy we're most familiar with had an excellent 2005 season with the Diamondbacks, spent six seasons with them and has also served as a predominantly bench bat for the Cubs, Marlins and Nationals.
There is another Chad Tracy in the baseball world, though, and that would be the son of former Dodgers, Pirates and Rockies manager Jim Tracy. He played 45 games for Triple-A Omaha (Royals system) last season. He's bounced around the diamond a bit throughout his long minor-league career but has settled at first base.
And here's how it unfolded for Orioles beat writer (Baltimore Sun) Dan Connolly:
Accdg to a source, Orioles have signed corner INF Chad Tracy to a minor lg deal w ST invite. Tracy, 33, played in 92gs for Nats in 2013

— Dan Connolly (@danconnollysun) January 29, 2014
Ok, here's an awkward retraction. The Orioles did not sign Chad Tracy of Nats and Dbacks fame. They signed Chad Tracy, Jim's son

— Dan Connolly (@danconnollysun) January 29, 2014
The other Chad Tracy -- the 1 who was w the Nats and Dbacks -- has signed a minor league deal w a ST invite with the LA Angels, source says

— Dan Connolly (@danconnollysun) January 29, 2014
So to recap: I have 2 Chad Tracy signings for u today: Orioles signed the minor leaguer/Jim's son; Angels have signed the big leaguer ex-Nat

— Dan Connolly (@danconnollysun) January 29, 2014
Hard to blame Connolly. I'm pretty sure if anyone told any of us Chad Tracy signed a minor-league deal we'd immediately assume it was the one who was with the Nationals last season and not the one who played 59 games with the York Revolution of the independent Atlantic League.
For what it's worth, these are the only two Chad Tracy entries in all of baseball-reference.com's exhaustive database.
Still, let us keep focus, as congratulations are in order.
Congrats on the job, Chad Tracy. Same to you, Chad Tracy.