All you need to know: MLB news, rumors from Feb. 14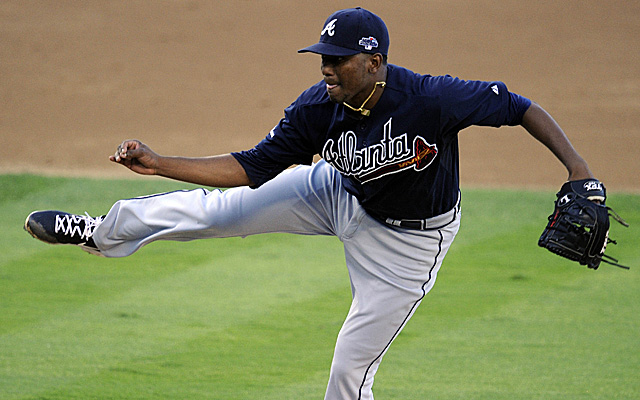 MORE: FA tracker: position players | FA tracker: pitchers
Cue the broken record: Ervin Santana, Ubaldo Jimenez, Nelson Cruz, Stephen Drew and Kendrys Morales still haven't signed and remain free agents attached with the apparent Scarlet Letter in the form of draft compensation.
Anyway, the rest of baseball brought us a decent-sized list of news, rumors, etc. to pass along on this faux-holiday, so let's check it all out.
SIGNINGS
•Braves: They announced their second long-term extension of the offseason, locking up starting pitcher Julio Teheran for six years and $32.4 million. It only bought out one free agency year, though, so this was mostly about cost certainty.
•Nationals: They agreed to terms with reliever Josh Roenicke on a minor-league deal with an invitation to major-league camp, the club announced.
•Rays: Free agent left-handed pitcher Erik Bedard has agreed to a deal.
RETIREMENT
•Right-handed starting pitcher Jake Westbrook has decided to call it a career.
AVOIDED ARBITRATION
•Rangers: The club and first baseman Mitch Moreland avoided arbitration, the club announced. Moreland will make $2.65 million this season with the ability to earn a $25,000 bonus if he reaches 470 plate appearances and another $25,000 if he gets to 525, per Jon Heyman.
INJURIES
•Athletics: The bullpen is hampered a bit, with Ryan Cook and Sean Doolittle held back early in camp.
•Reds: Mat Latos had to undergo surgery to repair torn meniscus in his left knee.
REPORTS, RUMORS AND SPECULATION
•Cubs: The discussion of a long-term deal with Jeff Samardzija continues in the media, but it almost sounds as though Samardzija is resigned to things not coming together. In an article on chicagotribune.com, Samardzija discusses how helping the Cubs will increase his value to the franchise and he specifically mentions landing the Cubs prospects in a trade. Yes, Samardzija discusses the possibility of signing an extension, but this story was very compelling in that Samardzija backed away from sentiment. Also on the Cubs, president of operations Theo Epstein told MLB.com's Carrie Muskat that this offseason the Cubs held back on spending in anticipation of using those resources later.
•Mariners: They are "weighing all options" in terms of adding a starting pitcher like Ubaldo Jimenez or Ervin Santana or continuing their pursuit of Nelson Cruz, according to Ken Rosenthal of Fox Sports.
•Mets: The club has spoken with Nelson Cruz but a deal is "highly unlikely," according to Andy Martino of New York Daily News. As for current Mets, a Star-Ledger article paints the picture that Juan Lagares could well be headed to Triple-A, with Curtis Granderson and Chris Young assured of everyday playing time and management seeming to like Eric Young.
•Reds: As Homer Bailey prepares to face off against the Reds in arbitration Feb. 20, he tells C. Trent Rosecrans of cincinnati.com that "we haven't really talked one-year that much, it's been primarily multi-year." So it would appear both sides are focused on a longer-term extension. Bailey is set to hit free agency after this season if an extension doesn't come to fruition.
•Tigers: New manager Brad Ausmus wants to keep his big bats in the lineup when they play in National League ballparks, meaning that Miguel Cabrera could play third base and/or Victor Martinez could see time behind the plate (detroitnews.com). Also of great interest here: Max Scherzer won't talk contract extension during the regular season.