Eye On Baseball Virtual GM Draft: Rounds 6-15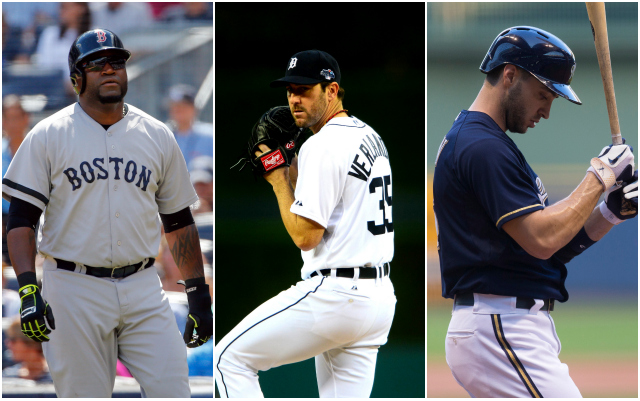 MORE: EOB virtual GM draft part 1
As noted in this space, we four CBSSports.com baseball writers -- Jon Heyman, Matt Snyder, Michael Axisa and lowliest I -- are waist-deep in a "virtual GM" draft. By way of reminder, here are some specifics about what we're doing ...
First and foremost is the fact that we were only drafting four total teams. Obviously, our teams will be pretty star-laden and comparing any of the four to a real team would be folly.

Secondly, we ignored salaries. This was simply an in-a-vacuum, what player would you rather have scenario in building our respective 25-man rosters.

As far as age concerns, we decided to draft as if we were putting together our teams for the 2014 season and only the 2014 season. Thus, we aren't worried about long-term viability of the roster; only the 2014 performance. Considering that, we also have to keep injuries in mind. Matt Harvey, for example, would be taken if healthy and instead he'll be left undrafted. Manny Machado, for example, will be taken far later than he normally would have due to concerns to begin the season. We do need to mention, though, that we drafted last week -- before hearing about issues for Cole Hamels and Hisashi Iwakuma, for example.

Given that our rosters are blank, we drafted in "snake" format (1-4, 4-1, 1-4, etc.) and random drawing gave Heyman the first pick, followed by Axisa, myself and Perry, respectively.
Let's emphasize a key point here: This is not a fantasy draft. We're drafting these teams -- from scratch -- as though they're going to take the field and play each other over a full season of actual baseball. So, among other distinctions, defense matters to us. Now let's repeat another key takeaway, as well: We're drafting with 2014 and 2014 only in mind. That is, how a player figures to fare in 2015 or 2020 isn't of interest to us.
Here are rounds 1-5, and now let's unveil rounds six through 15 ...
Round 6
Perry - Stephen Strasburg
Snyder - Felix Hernandez
Axisa - Chris Sale
Heyman - Max Scherzer
All starting pitchers in this round. You can safely say a run has begun.
Round 7
Heyman - Jose Fernandez
Axisa - Adam Wainwright
Snyder - Jacoby Ellsbury
Perry - David Price
Will Ellsbury enjoy a power resurgence thanks in part to the short right field porch in Yankee Stadium? Snyder officially hopes so.
Round 8
Perry - Justin Verlander
Snyder - Ryan Braun
Axisa - Joe Mauer
Heyman - Adam Jones
Note: We dictated prior to the draft that Mauer, because of his position switch, could be drafted only as a first baseman or DH. As for Verlander, I'm betting that the mechanical tweaks that allowed him to pitch like his old self down the stretch carry over to 2014.
Round 9
Heyman - Giancarlo Stanton
Axisa - Ben Zobrist
Snyder - Cole Hamels
Perry - Carlos Gonzalez
There's no doubting what a healthy Stanton can do, but will he stay healthy?
Round 10
Perry - Andrelton Simmons
Snyder - James Shields
Axisa - Brian McCann
Heyman - Jered Weaver
McCann has plenty of left-handed power, and that should play very well in the Bronx.
Round 11
Heyman - Jon Lester
Axisa - Doug Fister
Snyder - Anibal Sanchez
Perry - Craig Kimbrel
And we have our first reliever off the board.
Round 12
Perry - Aroldis Chapman
Snyder - Josh Donaldson
Axisa - David Ortiz
Heyman - Masahiro Tanaka
Tanaka is the great unknown heading into 2014, but Heyman's betting that his full repertoire and wipeout splitter translate quite well.
Round 13
Heyman - Koji Uehara
Axisa - Greg Holland
Snyder - Kenley Jansen
Perry - Jason Kipnis
Round 14
Perry - Zack Greinke
Snyder - Joe Nathan
Axisa - Madison Bumgarner
Heyman - Trevor Rosenthal
Yes, Zack Greinke is a fifth starter in this thought experiment. Such is the depth of a four-team league.
Round 15
Heyman - Shin-Soo Choo
Axisa - David Robertson
Snyder - Carlos Gomez
Perry - Matt Holliday
And there's Day 2.
For purposes of maximally convenient Internet ridicule, here's where our teams stand after 15 of 25 rounds ...
Virtual GM rosters
Position
Heyman
Axisa
Snyder
Perry
C
Y. Molina (3)
McCann (10)
??
Posey (2)
1B
??
Mauer (8)
Goldschmidt (2)
Votto (3)
2B
Cano (2)
Carpenter (3)
Pedroia (3)
Kipnis (13)
SS
H. Ramirez (5)
Tulowitzki (2)
??
Simmons (10)
3B
Beltre (4)
Longoria (5)
Donaldson (12)
Wright (5)
LF
Trout (1)
??
Braun (8)
Holliday (15)
CF
A. Jones (8)
McCutchen (1)
Ellsbury (7)
??
RF
Stanton (9)
Zobrist (9)
Harper (5)
C. Gonzalez (9)
Bench
??
??
C. Gomez (15)
??
Bench
??
??
??
??
Bench
??
??
??
??
Bench
??
??
??
??
Bench
??
??
??
??
SP 1
Scherzer (6)
C. Lee (4)
Kershaw (1)
Darvish (4)
SP 2
J. Fernandez (7)
Sale (6)
Hernandez (6)
Strasburg (6)
SP 3
Weaver (10)
Wainwright (7)
Hamels (9)
Price (7)
SP 4
Lester (11)
Fister (11)
Shields (10)
Verlander (8)
SP 5
Tanaka (12)
Bumgarner (14)
A. Sanchez (11)
Greinke (14)
Closer
Uehara (13)
G. Holland (13)
Jansen (13)
Kimbrel (11)
RP
Rosenthal (14)
D. Robertson (15)
Nathan (14)
A. Chapman (12)
RP
??
??
??
??
RP
??
??
??
??
RP
??
??
??
??
RP
??
??
??
??
RP
??
??
??
??
So who's got the edge heading into Day 3?
We'll wrap up the draft on Wednesday by rolling out rounds 16 through 25.