The Eye On Baseball Virtual GM Draft: In which we justify ourselves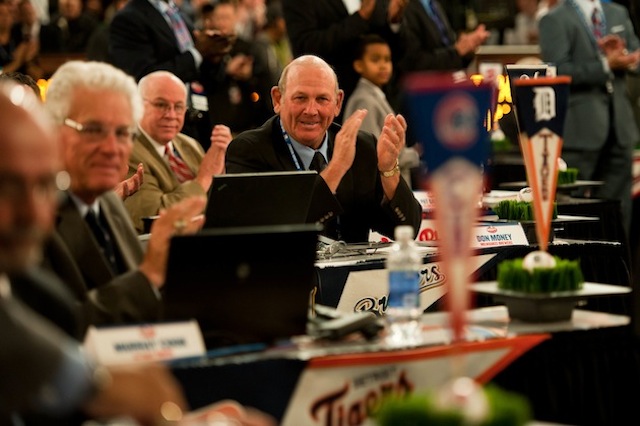 MORE: EOB virtual GM Draft Part 1 | Part 2 | Part 3
To recap, in this space we four CBSSports.com baseball writers -- Jon Heyman, Matt Snyder, Mike Axisa and Dayn Perry -- have been conducting a "Virtual GM" draft in order to assemble the best possible 25-man roster for the upcoming season. Here are some reminders on the criteria and ground rules ...
First and foremost is the fact that we were only drafting four total teams. Obviously, our teams will be pretty star-laden and comparing any of the four to a real team would be folly.

Secondly, we ignored salaries. This was simply an in-a-vacuum, what player would you rather have scenario in building our respective 25-man rosters.

As far as age concerns, we decided to draft as if we were putting together our teams for the 2014 season and only the 2014 season. Thus, we aren't worried about long-term viability of the roster; only the 2014 performance. Considering that, we also have to keep injuries in mind. Matt Harvey, for example, would be taken if healthy and instead he'll be left undrafted. Manny Machado, for example, will be taken far later than he normally would have due to concerns to begin the season. We do need to mention, though, that we drafted last week -- before hearing about issues for Cole Hamels and Hisashi Iwakuma, for example.

Given that our rosters are blank, we drafted in "snake" format (1-4, 4-1, 1-4, etc.) and random drawing gave Heyman the first pick, followed by Axisa, myself and Perry, respectively.
Let's emphasize a key point here: This is not a fantasy draft. We've been drafting these teams -- from scratch -- as though they're going to take the field and play each other over a full season of actual baseball. So, among other distinctions, defense matters to us. Now let's repeat another key takeaway, as well: We're drafting with 2014 and 2014 only in mind. That is, how a player figures to fare in 2015 or 2020 isn't of interest to us.
Anyhow, with all 25 rounds of the draft having been completed, it's time for us to roll out our lineups and rotations and share our draft strategy and thought processes (such as they are!).
We'll let each combatant say his piece in his own words ...
JON HEYMAN
I might be an old-school guy, but I am no idiot (no cracks, please). Mike Trout was a pretty easy first pick for me. He's the best all-around player in the game. Plus, I knew I'd take grief if I didn't take Trout.
After Trout I tried to fill a couple positions where I figured there were fewer than four elite players, so I grabbed catcher Yadier Molina and second baseman Robinson Cano with my next couple picks. At this point, I'm set up to have a superb lineup, which I'm going to need since everyone else took two starting pitcher before I took even one.
Lineup:
1. Shin-Soo Choo, RF
2. Mike Trout, LF
3. Robinson Cano, 2B
4. Hanley Ramirez, SS
5. Adrian Beltre, 3B
6. Prince Fielder, 1B
7. Giancarlo Stanton, DH
8. Yadier Molina, C
9. Adam Jones, CF
I love the top of my lineup, and I have to feel pretty good about the bottom, too. But I know I'm going to need to score a fair number of runs since I probably don't have the best starting pitching.
I was happy to grab Choo in the 15th round, and have him displace Trout as leadoff hitter and Stanton as right fielder. My defense isn't bad, either, especially in the outfield (Trout, Jones, Choo), at second (Cano), third (Beltre) and catcher (Molina). I left first base for round 18, where I grabbed Fielder, figuring he'll do better in Arlington, Texas, though I immediately was second-guessing myself for not taking the improving Freddie Freeman.
The one real problem: Who's going to tell Jones he's hitting ninth?
Bench - Yasiel Puig, Manny Machado, Edwin Encarnacion, Matt Wieters, Xander Bogaerts.
Well, I'll say that's a real interesting bench. I took Encarnacion late instead of Freeman since Fielder is lefthanded and wanted a righty. Puig, Machado and Bogaerts have a world of talent, and I kinda wish we're playing a futures game (or they had a spot in the lineup).
Rotation
1. Max Scherzer
2. Jose Fernandez
3. Jered Weaver
4. Jon Lester
5. Masahiro Tanaka
I can't think I have the best rotation, but it's not bad. I love the years Scherzer and Fernandez had, and if they can come anywhere near what they did, I should be in good shape. I hear Weaver made some adjustments over the winter, and like what he and my No. 4 starter Jon Lester bring. I'm looking for Tanaka to be a "solid No. 5 starter." (haha) Michael Wacha is my swing man, not just because I like the Tanaka-Wacha combo, either.
Bullpen - Koji Uehara, Trevor Rosenthal, Rex Brothers, Tony Cingrani, Steve Cishek, Wacha.
I am again relying on a pitcher who was brilliant a year ago in Uehara, and hoping for something in that ballpark. Rosenthal provides a nice complement on the back end, and Brothers and Cingrani are two tough lefties. Cishek, a decent closer in his own right, is my elite mop-up man.
I like my lineup top to bottom, the power at the top of the rotation and its overall depth plus the lights-out stuff in the bullpen.
That said, with only four teams, if you don't pick a virtual All-Star team you did something very wrong. I think my team is formidable, but it isn't a perfect team.
I'm worried about Ramirez's health (I'm cheating and making Machado my backup shortstop, which I have no doubt he could play brilliantly). I'm hoping for a bounce-back year from Fielder and wondering if my starters will go deep enough into games.
It would be hard to go wrong in a four-team look, and I had the advantage of the first pick. If my guys can duplicate what they did last year (with maybe a little better from Weaver and Stanton, I think I'll be all right.
MIKE AXISA
Lineup
1. CF Andrew McCutchen
2. 1B Joe Mauer
3. SS Troy Tulowitzki
4. DH David Ortiz
5. RF Jose Bautista
6. 3B Evan Longoria
7. LF Alex Gordon
8. C Brian McCann
9. 2B Matt Carpenter
I originally drafted Ben Zobrist with the idea of making him my regular right fielder, but I decided to switch gears at the position after I was able to grab Bautista in the 19th round. Chicks dig the long ball, what can I say. I was also planning to grab another position player to use at DH, but Ortiz's bat was too good to pass up in the 12th round.
The first iteration of my lineup had Carpenter leading off, McCutchen batting third and Tulowitzki batting fifth, but I decided to bump Carpenter down to ninth to serve as a "second" leadoff hitter while all the power hitters bat higher up. I squeezed Mauer into the two-hole for on-base reasons -- Tulo had a .391 OBP last season and that's the lowest of my top four hitters. Add in Carpenter in a nine hole and Ortiz would have like, 180 RBI with that team.
Bench - UTIL Zobrist, IF Jurickson Profar, OF Billy Hamilton, C Jonathan Lucroy
Three switch-hitters on the bench and one is the ultimate pinch-runner. Should I ever play a close game, Hamilton will a major weapon in the late innings. The only thing I don't like about my bench is the lack of a real power bat, though Zobrist and Lucroy have some thump. Between Zobrist, Bautista and Carpenter, my team has a ton of versatility. Even Gordon could move between the infield and outfield in an emergency.
Rotation
1. LHP Cliff Lee
2. RHP Adam Wainwright
3. LHP Chris Sale
4. RHP Doug Fister
5. LHP Madison Bumgarner
Among qualified pitchers, I have four of the 15 lowest walk rates from 2013 in my rotation: Lee (3.7%, tied for first), Wainwright (3.7%, tied for first), Fister (5.0%, 12th) and Sale (5.3%, 15th). Bumgarner is the outlier at 7.7% (57th). I definitely emphasized strike throwers because the other lineups are so good that I don't want to give away free base-runners with walks. I'm not messing around, I wanted guys who pound the zone and if someone manages to put the ball in play, my defense is as strong as anyone's in this little experiment.
In my opinion, I have three of the five best starters in baseball on my roster in Lee, Waino and Sale. I'm pretty pleased about that. Fister and MadBum might lag behind the other fourth and fifth starters, but it's not like they're bad. Very happy with my rotation overall and ecstatic about the top three slots.
Bullpen
Closer - Greg Holland
Setup - David Robertson, Glen Perkins
Middle Men - Tyler Clippard, Jake McGee, Ryan Cook
Long Man - Brett Anderson
Holland had the second highest strikeout rate in baseball last year (40.4%), trailing only Aroldis Chapman. Perkins had the third highest strikeout rate (32.1%) among lefties and Robertson has the eighth highest strikeout in baseball over the last three years (33.0%). So yes, I did emphasize strikeouts at the end of the game. I want guys who gets outs all my themselves and don't need their defense in the late innings.
In Cook and McGee, I grabbed some premium velocity guys who bring huge fastballs to the table. Clippard is my relief workhorse, the guy who could throw 80-something relief innings if need be. Anderson is a risky pick given his injury problems, but I'm using him like the Athletics did late last year -- multiple inning relief outings every few days -- so hopefully that keeps him off the DL.
More than anything, I think my team has really good balance. I have a real nice mix of right-handed hitters, left-handed hitters and switch-hitters, my rotation has a bunch of guys with no platoon splits, and my bullpen has a matchup answer for pretty much any type of hitter. I wish my fourth and fifth starters were a little stronger, but I'll live with Fister and Bumgarner.
MATT SNYDER
So did I make a mistake in taking Clayton Kershaw instead of Miguel Cabrera in the first round? I don't know. I second-guessed the decision many times, but I did get Paul Goldschmidt as my first baseman and I love my 1-2 punch in the rotation. Several times I tried to wait on guys and lost out on them (Beltre and Verlander, to name two specific names). Still, I was overall pleased with where I ended up. Where there's injury-risk, there's upside and a backup option.
Lineup

1. Jacoby Ellsbury, CF
2. Dustin Pedroia, 2B
3. Bryce Harper, RF
4. Paul Goldschmidt, 1B
5. Chris Davis, DH
6. Ryan Braun, LF
7. Josh Donaldson, 3B
8. Carlos Santana, C
9. Jose Reyes, SS
While not lacking power at all, the team speed here is very high. Even non-traditional basestealers with good power like Harper, Goldschmidt and Braun have good speed. Davis probably won't be as good as he was last year, sure, but I love the chances of Harper and Braun to make up for it.
I knew when I drafted Ellsbury and Reyes that I'd want to quickly draft a solid backup for each, due to injury concerns. So I took Gomez as my fourth outfielder and Desmond as my main backup infielder. With just two more bench spots, I obviously had to take a backup catcher and I wanted it to be a strong defender to make up for where Santana is lacking. Perez fit the bill. Finally, with one spot left, it was my lottery ticket spot and Pujols could pay off. If he returns to form -- or even close to form -- I have an utter steal. If not, he's just a very good pinch hitter. Freeman would have obviously been a safer choice and if I needed a starter I would have taken him. But I don't. So I'm going all upside and Pujols still has more.

Rotation

1. Clayton Kershaw
2. Felix Hernandez
3. Cole Hamels
4. James Shields
5. Anibal Sanchez

We drafted early last week, or before we knew about Hamels' injury. Still, I like this rotation -- would've loved it more if I had gotten Verlander instead of Hamels, which is what I wanted -- and I believe my bullpen has two arms that could help bridge the gap until Hamels is healthy.

Bullpen

Closer: Kenley Jansen
Setup: Joe Nathan, Sergio Romo, Grant Balfour
Lefties: Sean Doolittle, Drew Smyly
Long: Tim Lincecum

The closers don't need much explanation but I will point out on Jansen that I believe he's primed to join Craig Kimbrel and Aroldis Chapman as one of the top three closers in baseball this season.
With Smyly and Lincecum, I have two guys who could be used as starters but have also shown they can excel in the bullpen. Smyly was one of the most effective relievers in baseball last season and Lincecum was a dominant force in the 2012 playoffs. His role here will be similar -- get as many outs as we ask for and dominate while doing so.
As for Doolittle, I have to have a left-hander here if Smyly is called into the rotation -- and with Hamels hurt, I'd want a lefty and it would be Smyly getting the call over Lincecum -- and Doolittle is not only left-handed, but also very effective against righties as well. So he doesn't have to be a LOOGY. Not only that, but Doolittle was the best reliever in baseball last season in stranding inherited runners on base.

Overall I was pleased but not ecstatic, as I felt like there were several times where I tried too hard to stretch things and instead missed out on who I wanted. Such is a shallow, fictional draft.
DAYN PERRY
My philosophy was hardly novel: Take the best available, focus on positional scarcity and try to get out in front of runs at certain positions/roles. Anyway ...
Lineup
1. David Wright, 3B
2. Joey Votto, 1B
3. Miguel Cabrera, DH
4. Buster Posey, C
5. Carlos Gonzalez, RF
6. Matt Holliday, LF
7. Jason Kipnis, 2B
8. Dexter Fowler, CF
9. Andrelton Simmons, SS
Pretty straightforward here. I favor on-base skills over speed in the leadoff position, and fortunately Wright has both. Votto's discerning eye at the plate will get no criticism from me, as I want him on base as much as possible in front of Cabrera. Using Cabrera as my exclusive DH will ideally keep him fresh and healthy and allow him to concentrate solely on crushing the ball.
As for Posey, my taking him fifth overall raised some eyebrows, as expected. Here's how I justify it ... As noted, positional scarcity -- i.e., the obvious notion that it's harder to find good bats at premium defensive spots like shortstop and catcher -- informed the decision. Posey's a career .308/.377/.486 hitter despite playing his home games in a park that's pretty brutal on right-handed power bats. As well, he's at an age that lends itself to surges in production. That is, I'm expecting a big year. I'm as big a fan of Yadier Molina as you'll find, but part of me suspects that 2013 might mark the onset of his "soft" decline phase. So Posey is my catcher and clean-up hitter.
On a broader level, I tried to place an emphasis on defense in certain spots, hence my drafting of Simmons. With Votto, Kipnis, Simmons and Wright in the fold, I'm pretty happy with my infield D. I also like the fly-catching capabilities of Fowler and Gonzalez.
Bench - Justin Upton, Jhonny Peralta, Jason Castro, Allen Craig
Upton can spell CarGo against certain tough lefties, Peralta is the utility infielder, Castro backs up Posey and is the first left-handed bat off the bench, and Craig provides right-handed pop and backs up first base and the outfield corners. I definitely like having power on the bench for the late innings, and I think Upton and Craig provide it.
Rotation
1. Yu Darvish
2. Stephen Strasburg
3. David Price
4. Justin Verlander
5. Zack Greinke
Obviously, the rotation was a point of emphasis for me. Darvish is the top bat-misser in the game today. As for Strasburg, his run-prevention and strikeout numbers are exceptional, and I expect the Nats -- in full contention mode -- to allow him to eclipse 200 innings for the first time. I'm betting on Price's having a vintage season after the outstanding command he showed in 2013 and given how he improved after recovering from his arm injury. Verlander should be back to being Verlander after making some late-season mechanical tweaks, and Greinke, to say the least, is pretty strong as fifth starters go. I'm quite satisfied with this corps.
Bullpen
Closer: Craig Kimbrel
Setup: Aroldis Chapman, Mark Melancon, Kelvin Herrera
Lefty: Kevin Siegrist
Long: Carlos Martinez, Shelby Miller
I was happy to get out in front of the reliever run and snare Kimbrel and Chapman. My manager -- the job has been offered to the spectral presence of Earl Weaver -- will be under orders to mix and match and use our best relievers in the tightest spots, regardless of whether those spots occur in the sixth, seventh or ninth innings or whatever. That is, the save rule isn't going to dictate how we use our relievers. I didn't list Chapman as a lefty because he's going to be more than that just a platoon reliever. I expect a bounce-back from Herrrera to something closer to 2012 levels, and Siegrist is a young arm from whom I expect big things moving forward. Martinez and Miller get long-man detail and also provide rotation depth.
And here's the full draft board once again ...
Virtual GM rosters
Position
Heyman
Axisa
Snyder
Perry
C
Y. Molina (3rd rd.)
B. McCann (10)
C. Santana (18)
B. Posey (2)
1B
P. Fielder (18)
J. Mauer (8)
P. Goldschmidt (2)
J. Votto (3)
2B
R. Cano (2)
M. Carpenter (3)
D. Pedroia (3)
J. Kipnis (13)
SS
H. Ramirez (5)
T. Tulowitzki (2)
J. Reyes (16)
A. Simmons (10)
3B
A. Beltre (4)
E. Longoria (5)
J. Donaldson (12)
D. Wright (5)
LF
M. Trout (1)
A. Gordon (17)
R. Braun (8)
M. Holliday (15)
CF
A. Jones (8)
A. McCutchen (1)
J. Ellsbury (7)
D. Fowler (16)
RF
G. Stanton (9)
B. Zobrist (9)
B. Harper (5)
C. Gonzalez (9)
DH
S. Choo (15)
D. Ortiz (12)
C. Davis (4)
M. Cabrera (1)
Bench
Y. Puig (16)
J. Profar (18)
C. Gomez (15)
J. Upton (17)
Bench
M. Machado (17)
J. Bautista (19)
I. Desmond (17)
J. Peralta (18)
Bench
M. Wieters (20)
J. Lucroy (20)
A. Pujols (19)
J. Castro (19)
Bench
E. Encarnacion (23)
B. Hamilton (21)
S. Perez (20)
A. Craig (20)
Bench
X. Bogaerts (25)
-
-
-
SP 1
M. Scherzer (6)
C. Lee (4)
C. Kershaw (1)
Y. Darvish (4)
SP 2
J. Fernandez (7)
C. Sale (6)
F. Hernandez (6)
S. Strasburg (6)
SP 3
J. Weaver (10)
A. Wainwright (7)
C. Hamels (9)
D. Price (7)
SP 4
J. Lester (11)
D. Fister (11)
J. Shields (10)
J. Verlander (8)
SP 5
M. Tanaka (12)
M. Bumgarner (14)
A. Sanchez (11)
Z. Greinke (14)
Closer
K. Uehara (13)
G. Holland (13)
K. Jansen (13)
C. Kimbrel (11)
RP
T. Rosenthal (14)
D. Robertson (15)
J. Nathan (14)
A. Chapman (12)
RP
R. Brothers (19)
G. Perkins (16)
S. Romo (21)
M. Melancon (21)
RP
M. Wacha (21)
T. Clippard (22)
S. Doolittle (22)
K. Herrera (22)
RP
T. Cingrani (22)
J. McGee (23)
D. Smyly (23)
K. Siegrist (23)
RP
S. Cishek (24)
B. Anderson (24)
T. Lincecum (24)
C. Martinez (24)
RP
-
R. Cook (25)
G. Balfour (25)
S. Miller (25)