2014 Team Preview: Toronto Blue Jays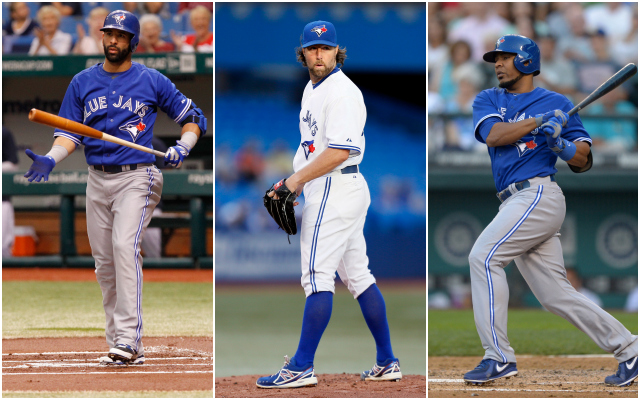 More: Team Previews | Spring Training
More 2014 Blue Jays: Likes and dislikes | Over/Unders
The Blue Jays entered last season with certifiable designs on contention, but that never happened. Thanks in part to a rash of injuries and some key under-performances, the Jays pulled up last in the AL East. As a consequence, GM Alex Anthopoulos has quite a bit of pressure on his regime headed into 2014. Is job-saving improvement in the offing? Let's break it down ...
Probable lineup
Bench: C Josh Thole, INF Maicer Izturis, OF Anthony Gose, OF Moises Sierra
Last season, the Jays ranked eighth in the AL with 712 runs scored, which isn't especially impressive considering they call home a park that modestly increases run-scoring. Encarnacion is quietly one of the best and most disciplined hitters around, Bautista when healthy is a reliable source of power, Reyes has "igniter" potential, and Rasmus has ceiling. Better production from catcher (J.P. Arencibia is now in Texas) and a bounce-back from Cabrera will be essential.
Probable rotation
Needless to say, this was a weak spot for the Jays last season. In 2013, the Toronto rotation ranked 14th in the AL in WAR and ERA. You don't contend when you're saddled with one of the worst rotations in baseball.
Probable bullpen
Closer: RHP Casey Janssen
Setup men: RHP Sergio Santos, LHP Aaron Loup
Middle men: RHP Steve Delabar, RHP Jeremy Jeffress
Long men: LHP Brett Cecil, RHP Dustin McGowan
Last year, the Jays' pen was solid enough, as the corps ranked fourth in the AL in relief ERA and seventh in relief WAR. There's not what you'd term a true shutdown reliever in the lot, but there is depth, as Janssen, Santos, Loup, Cecil and McGowan all could post ERAs on the right side of 3.50.
Under-the-radar offseason transaction
The Jays did very little this winter, so let's home in on the only addition of note: the signing of catcher Dioner Navarro to a two-year, $8-million contract. That's immediately significant because Toronto catchers last season combined to hit just .194/.235/.348. Navarro, meantime, batted a robust .300/.365/.492 with 13 home runs in 89 games for the Cubs. On the other hand, Navarro's career numbers -- .251/.313/.371 -- are somewhat less impressive. Navarro's elevated BABIP and HR/FB numbers from last season suggest he'll come back to earth, but even a regressed Navarro should constitute a notable upgrade for the Jays.
Fantasy sleeper: SP Brandon Morrow
"In truth, Morrow could fill this category every year. Now seven years into his big-league career, he still has yet to throw 180 innings in a season, mostly because he has only once held up long enough to make 30 starts. What makes this year different from previous years is that no one expects anything. Morrow was limited to 10 starts in 2013, none after May 28, and they weren't exactly his best. Most likely, the nerve issue in his right forearm that ended his season and ultimately required surgery had something to do with it. He also pitched with neck and back stiffness for that period he was "healthy." A couple months at less than his best doesn't negate the progress he made in 2012, when he went 10-7 with a 2.96 ERA and 1.12 WHIP in 21 starts. The stuff that has made him a strikeout-per-inning guy for most of his career hasn't changed since then, but early results show Morrow going undrafted in mixed leagues. You may not need to draft him yourself, but don't forget about him on waivers." - Scott White (Full Blue Jays fantasy preview)
Biggest strength
Their 2-3-4 four hitters. Specifically, I'm talking Bautista, Encarnacion and Lind. While there are other quality hitters to be found elsewhere in the Toronto lineup, their 2-3-4 guys are especially enviable. Bautista over the last five seasons has averaged 43 homers per 162 games played, so it's key that he stay healthy in 2014. As for Encarnacion, he managed to clout 36 homers last season while logging 82 walks against 62 strikeouts. That kind of rare plate discipline and swing command bodes well for the near future. Lind, meanwhile, authored a 132 OPS+ in 2013.
Biggest weakness
The rotation. As noted above, it was dismal last season. While some degree of rebound is possible, it might be for the most part a "dead cat bounce." Dickey, while compelling and decorated, is 39 and coming off a season of regression. At some point, even knuckleballers are subject to the aging curve. Buehrle turns 35 next month and profiles as roughly a league-average starter at this stage of his career. Morrow has upside, but just once before has he managed a qualifying number of innings in a season. Happ is a journeyman sort with a career ERA of 4.25 as a starter, and Drabek will be in his first full season since undergoing Tommy John surgery. Viewing them in the aggregate, I'll say better than last year but still not good enough.
Outlook
The biggest thing the Jays have going against them is the AL East. The Red Sox are reigning champs, the Rays are perennial contenders, the Yankees are gunning for a return to the postseason, and the Orioles have begun adding key parts to an 85-win team. Last season, the Jays played just 43 of 162 games against losing teams, and the 2014 schedule figures to be similarly remorseless. Given the strength of the peer group, I'm tabbing the Jays for a win total in the 70s and another last-place finish.
Coming Sunday: Tampa Bay Rays 2014 preview