Cards 'embarrassed' by Martinez's pornographic Twitter page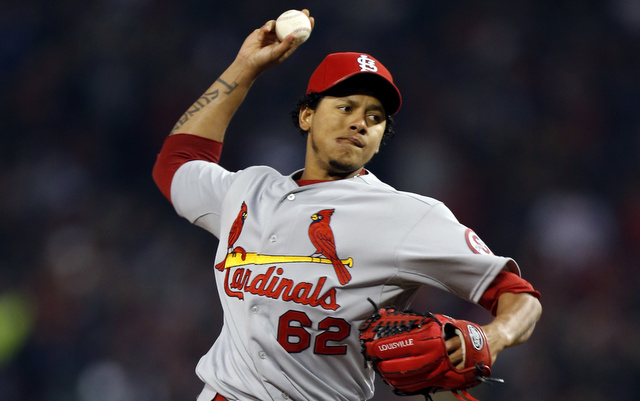 MORE: Spring Training | FA tracker: position players | FA tracker: pitchers
Cardinals flamethrower Carlos Martinez is one of the most exciting young pitchers in the game today, but earlier this week he made headlines for all the wrong reasons. Deadspin.com picked up a video that offered a tour of Martinez's "favorited" tweets, which was filled with pornographic images and links.
Naturally, the Cardinals were not happy. Manager Mike Matheny told Derrick Goold of the St. Louis Post-Dispatch that the team is "embarrassed," and that he addressed both Martinez and the rest of the roster about their Twitter and social media habits. Here's more:
"I'm not trying to shove my morality down anybody's throat. I've made that very clear," Matheny said. "But I also need these guys to understand that it's not just me that they need to be concerned about. There are a bunch of young guys that absolutely admire these guys and everything that they do. Realize – is this something you'd want your kids to see? Is this something that you want to be known for? Is this how you want to be remembered? I think the days of Charles Barkley saying he's not supposed to be a role model – that's garbage. If that's what you want to do then you should have been a computer programmer sitting in your flipflops at home somewhere.

"We are, like it or not, role models, and that's the danger when this thing hits the area that it hit. There are a lot of young eyes that love the St. Louis Cardinals and their players and could be easily influenced. Regardless of your moral compass and where it points, those sort of things that we're talking about are not things we want our kids seeing."
Martinez's Twitter page is still active but his account -- specifically the "favorited" tweets and the accounts he follows -- have been cleaned up. Martinez's account remains viewable by anyone. The team did not ask him to stop using Twitter or delete his page entirely.
Needless to say, this whole ordeal has been very embarrassing for the 22-year-old Martinez. He told Goold he plans to take a break from social media and "focus on baseball," which seems like a pretty great idea.
"I want to acknowledge fault for what happened," Martinez said with the help of an interpreter, Cardinals director of international scouting Moises Rodriguez. "It was my responsibility. I want to apologize to the fans, to the organization. I didn't mean to cause a distraction.

"Obviously, this is something you don't want to go through. But I accept responsibility, and I'm ready to move on and focus on baseball."
Martinez had a 5.08 ERA (72 ERA+) in 28 1/3 innings for the Cardinals last season, his major league debut. He took over as the team's primary setup man in the postseason and had a 3.55 ERA in 12 2/3 October innings. Martinez is scheduled to start the team's Cactus League game on Friday.