2014 team preview: Texas Rangers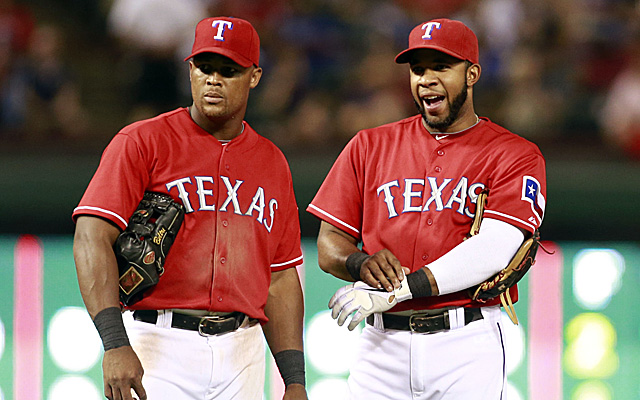 More: Likes, dislikes | Over/unders | All Team Previews | Spring Training
The Texas Rangers entered the 2010 season having never won a playoff series. In fact, they were 1-9 in postseason games in franchise history. All they did the next two seasons was go to the World Series and in 2011 they came within one out of a championship.
With those two seasons elevating expectations, winning 93 games in 2012 wasn't good enough, because the Rangers lost the wild-card game. And then winning 91 games in 2013 wasn't good enough, because the Rangers lost a play-in game to get to the wild-card game.
This past offseason, the Rangers dealt long-time second baseman Ian Kinsler to the Tigers in exchange for All-Star slugger Prince Fielder while also signing on-base machine Shin-Soo Choo -- in addition to a few other tweaks. While this past offseason marked only a slight makeover, the Rangers look completely different than they did in 2011, a drastic difference for such a successful franchise.
Probable lineup
1. Shin-Soo Choo, LF
2. Elvis Andrus, SS
3. Prince Fielder, 1B
4. Adrian Beltre, 3B
5. Alex Rios, RF
6. Mitch Moreland, DH
7. Geovany Soto, C
8. Jurickson Profar, 2B
9. Leonys Martin, CF
Bench - C J.P. Arencibia, IF Adam Rosales, OF Engel Beltre, OF Michael Choice
The top four spots are very good and it's possible Rios and Moreland have productive seasons as well. The 7-9 spots appear to be a bit rough right now, though Profar has a shot at a breakout season and it would be going too far to say Martin is bad. Back to Profar, though, he does have immense talent, but it'll be his first go-round as an everyday player.
The club ranked seventh in runs and eighth in OPS last season and we can't be sure they're measurably improved.
Probable rotation
1. Yu Darvish
2. Alexi Ogando
3. Martin Perez
4. Tommy Hanson
5. Colby Lewis
Matt Harrison is working to return from a back injury, but there's no set timetable. And, of course, there's Derek Holland's dog-running injury. He's on the 60-day disabled list to open the season and won't be back before the All-Star break. So the rotation could look better down the stretch, but it's loaded with question marks before then -- other than Cy Young candidate Darvish. More on the issues in a bit.
Probable bullpen
Closer - Neftali Feliz
Setup men - Joakim Soria, Tanner Scheppers, Neal Cotts
Middle men - Jason Frasor, Robbie Ross
Long man - Michael Kirkman
The Rangers ranked fourth in bullpen ERA and first in save percentage in the majors last season, so it goes without saying that this was a strength. Gone is elite closer Joe Nathan, though. If Neftali Feliz can return to pre-injury form, he can be plenty effective in replacing Nathan, but there's always the question of "if" in cases like these. Still, there's lots of upside all over the place here.
Under-the-radar offseason transaction
It'll be interesting to see what comes of Michael Choice. The Rangers traded fourth outfielder Craig Gentry and pitcher Josh Lindblom to the A's for Choice and a minor-leaguer. Choice starred at the University of Texas at Arlington and then was taken 10th overall in the first round of the 2010 draft by Oakland. He was hyped as a top-60 prospect in baseball prior to the 2012 season, but his stock has fallen a bit.
Still, Choice hit .302/.390/.445 with 29 doubles and 14 homers for Triple-A Sacramento (yes, in the notoriously hitter-friendly Pacific Coast League) before going 5-for-18 (.278) with a double in his first stint in the majors last year. He's seen time in all three outfield spots, so there's some value to be had there.
He may not pan out at all, but he's only 24 and going back home -- he went to high school in Arlington, too -- provides a cool storyline.
Fantasy breakout: Martin Perez

"Even though Perez entered last season with only 38 big league innings, he would up being a stabilizing force in the Rangers' rotation after the team struggled to get good performances from their No. 4 and 5 starters. The 22-year-old surpassed expectations with a 10-6 record and a 3.62 ERA, but there is still room for him to improve. Perez frustrated his dynasty league owners in 2012 by losing his knack for missing bats, and given his pedestrian 6.1 K/9 ratio last season, he could enter 2014 with the stigma of being a contact pitcher. Perez actually induced swings-and-misses on 10.5 percent of his pitches in 2013, and that usually corresponds with a much higher strikeout rate. He may not improve much upon his record or ERA (he did strand 77 percent of his runners), but Perez has a chance to enhance his value by becoming a strikeout pitcher with a lower WHIP." - Al Melchior [Full Rangers team fantasy preview]
Biggest strength
The bullpen would be a fine choice, but we can't be sure about Feliz's bounce-back and if there are questions in the ninth inning, that changes the complexion of the entire unit. So I'm instead going with the infield. Fielder and Beltre give the Rangers a pair of elite sluggers while Beltre and Andrus serve as probably the best defensive left-side in baseball. Profar hasn't yet flashed his true ceiling in the majors, but he's only 21 and was ranked as the top prospect in baseball by most outlets entering last season. Perhaps being settled in at second in a full-time role instead of bouncing all around the diamond without regular playing time will help him develop at the big-league level a bit quicker.
This is already a good group, but it might prove to be even better than that.
Biggest weakness
The flimsiness of the rotation, health-wise. We already mentioned Holland and Harrison. Ogando has had shoulder issues in the past. Hanson's shoulder woes appear to have derailed a once-promising career. Lewis didn't pitch at all last season after elbow and hip surgeries.
That leaves Darvish and Perez. Perez missed time after a fractured, non-pitching forearm last season after he was struck with a batted ball. That alone shouldn't make us question his durability, but he's never thrown more than 167 2/3 innings in a professional season, which happened last year (with 124 1/3 of those innings coming in the majors).
So how many starters can be counted on to provide a large workload?
One.
Outlook
The club hasn't won fewer than 90 games since 2009, back before they'd ever won a playoff series. It seems like a tall order for them to keep that streak going this season due to the rotation injuries and the possibly weak back-half of the lineup.
Let's say, however, that the Rangers stick around in contention until the second half, at which point Harrison should be back to full strength and Holland returns. In that case, they absolutely have enough talent here to make a return to the postseason.
One thing that really stands out for this Rangers team, as opposed to the past four seasons, is that there are far more question marks than usual. Between the injury pratfalls in the rotation, Rios' inconsistency from year to year, Profar's development, Feliz's return and more (for example: Was Cotts' resurgence last season sustainable?), it's tough to get a firm read on this ballclub.
We do know one thing for sure, though, which is that the Rangers are a contender until they show us otherwise. These new Rangers have earned that much while establishing themselves as a marquee franchise the past four seasons.
---
Coming Wednesday: Previewing the Oakland Athletics