Cole Hamels (shoulder) suffers setback, unlikely to pitch in April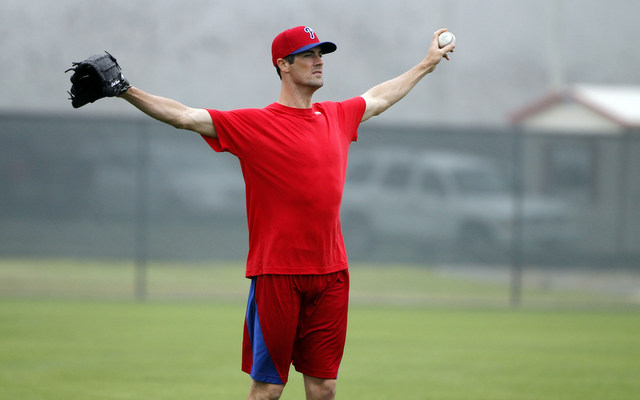 MORE: Spring Training | Scoreboard | FA tracker: position players | FA tracker: pitchers
Really bad news for the Phillies: left-hander Cole Hamels suffered a setback as he worked his way back from shoulder tendinitis. It was questionable whether he would be ready to start the season, but now it's unlikely he will pitch in April at all.
Another setback for Cole: his arm is "fatigued out" and he's putting the brakes on his throwing program. Probably won't pitch in April.

— Chris Branch (@ChrisBranchTNJ) March 6, 2014
Hamels emphasized that it is fatigue more than pain, but any kind of physical problem with his arm is big red flag. He has had a number of minor shoulder and elbow problems over the years, the most serious of which was a mild elbow sprain that sidelined him for more than a month in 2007.
With Hamels out, the Phillies are likely to start the season with Cliff Lee, A.J. Burnett, Kyle Kendrick and Roberto Hernandez in the rotation. John Pettibone, Miguel Alfredo Gonzalez and David Buchanan figure to compete for the final spot.
Hamels, 30, went 8-14 with a 3.60 ERA (106 ERA+) last season. He has thrown at least 200 innings in four straight years and at least 180 innings in seven straight years.
The Phillies owe Hamels $22.5 million per year though 2018.