Brad Penny released by Royals after punching wall in anger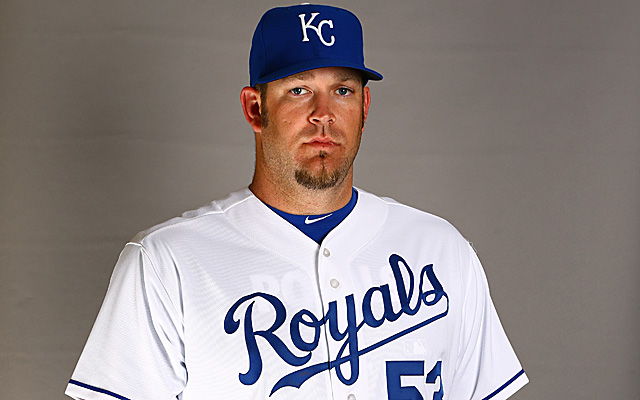 MORE: Spring Training | Scoreboard | FA tracker: position players | FA tracker: pitchers
The Royals released pitcher Brad Penny Friday, in a move that appears to have been two-fold.
First: Performance-based. Penny was a longshot to make the roster anyway, given that he'll be 36 this May and hasn't been productive for a full season since 2007. So he'd need to pitch well to have a shot. Through two outings, he's been knocked around the yard to the tune of 13 hits -- including two home runs -- and seven earned runs in four innings.
Of course, it would be pretty rare for a team to pull the plug after four spring innings. So the second reason? Hmm ...
One reason Brad Penny was released: He injured his non-throwing hand punching a wall on Thursday, source says.

— Andy McCullough (@McCulloughStar) March 7, 2014
My understanding is #royals weren't happy with wall punching incident, and it contributed to Penny's release.

— Jerry Crasnick (@jcrasnick) March 7, 2014
On the bright side, at least Penny learned quite well from Crash Davis' advice to never punch with one's pitching hand.
[Obligatory note: Crash told Nuke when you get in a fight with a drunk at a bar to not punch with your pitching hand, but we can apply this to the wall, too, if for no other reason than to continue to spread Crash's gospel].
Still, an injury via punching the wall isn't a good look for anyone -- let alone a 35-year-old, 13-year veteran.
Penny had a 6.11 ERA (58 ERA+) and 1.82 WHIP in 28 relief innings for the Giants last season. He was an All-Star in 2006 and 2007 and finished third in NL Cy Young voting in '07. Since then, though, he has a 5.16 ERA (82 ERA+) in 533 1/3 innings.