2014 team preview: Los Angeles Dodgers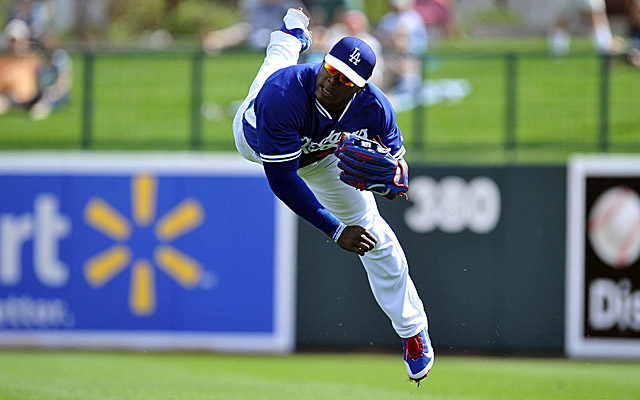 More: Likes, dislikes | Over/unders | All team previews | Spring training
The 2013 Los Angeles Dodgers were a tale of two seasons. They were 30-42 and in last place -- 9½ games out of first -- in the NL West after a June 21 loss to San Diego. From there, they were the best team in the majors by a whopping seven games, going 62-28 the rest of the way. In the process, they would win the West, top the Braves in the NLDS and lose in six to the Cardinals in the NLCS. They enter the 2014 season as division favorites with a hugely talented -- and expensive -- roster.
Probable lineup
1. Yasiel Puig, RF
2. Carl Crawford, LF
3. Hanley Ramirez, SS
4. Adrian Gonzalez, 1B
5. Matt Kemp, CF
6. Juan Uribe, 3B
7. A.J. Ellis, C
8. Alexander Guerrero, 2B
Bench: C Tim Federowicz, 1B/OF Scott Van Slyke, IF Dee Gordon, OF Andre Ethier, OF Mike Baxter
Ethier will obviously figure prominently in the mix as the Dodgers have four starting-caliber outfielders -- not to mention that both Kemp and Crawford have trouble staying on the field these days. Also, Gordon could easily get the nod to begin the season at second over Guerrero. That position battle this spring is far from over and if Guerrero starts the season in the minors -- a distinct possibility -- either Justin Turner or Chone Figgins could grab a roster spot.
Probable rotation
1. LHP Clayton Kershaw
2. RHP Zack Greinke
3. LHP Hyun-Jin Ryu
4. RHP Dan Haren
5. RHP Josh Beckett
Paul Maholm is also in the mix for a rotation spot, but he was signed with the understanding that he's the sixth option heading into the season -- assuming Beckett is ready to go, health-wise. Chad Billingsley had Tommy John surgery late last April, so he could figure in down the road. Stephen Fife provides additional depth and prospect Zach Lee may figure in down the stretch, if he pitches well enough in Triple-A (he made 25 starts in Double-A last season).
Probable bullpen
Closer: RHP Kenley Jansen
Setup men: RHP Brian Wilson, RHP Chris Perez
Middle men: LHP Paco Rodriguez, RHP Jamey Wright, LHP J.P. Howell
Long man: LHP Paul Maholm
Brandon League is also still under contract, I just don't see why they would give him a spot over any of the above pitchers. If Maholm ends up in the rotation, yes, League will be around.
This group as a whole can be pretty stout. Jansen has the ability to join the likes of Craig Kimbrel, Aroldis Chapman and Greg Holland as elite closers in the post-Rivera era. Wilson appears to be the Beard of old and Perez is a former All-Star in his own right -- not to mention that Rodriguez and Howell are coming off excellent seasons.
Under-the-radar offseason transaction
Jamey Wright was signed on a one-year, $1.8 million deal and appears to be one of the bullpen pitchers least likely to find himself in a high-leverage spot. Still, it shows just how deep this bullpen is. Wright has been progressively improving in most facets of his game the past several years. His 3.09 ERA last season was the best mark of his career, as was the 1.20 WHIP. His strikeouts per nine innings rate has gone from 4.3 to 6.3 to 7.2 to 8.4 in the past four seasons as he's commanded an impressive cutter.
On many teams, Wright would be an important bullpen piece. On the Dodgers, he's simply insurance for the big guns.
Fantasy bounceback candidate: Dan Haren
"Like Greinke, Haren was finding some of his secondary offerings -- namely, his cutter and splitter -- less deceptive due to a small difference in velocity compared to his fastball. After returning from a midseason trip to the disabled list, Haren started throwing softer cutters and splitters. Over the next three months, he sported an 8.6 K/9 ratio and a 3.29 ERA, looking more like the Haren from his Diamondback days. The 33-year-old will try to keep his momentum going with the Dodgers, and if he succeeds, he could provide great value for a late-round pick." -- Al Melchior [Full Dodgers team fantasy preview]
Biggest strength
Talent.
I guess when a club spends so much on player payroll, it should be this talented, but the physical ability of this club in almost every facet is beyond impressive.
Example 1: Beckett is 33, a three-time All-Star and has finished second in Cy Young voting before. He's the fifth starter. Haren is 33, a three-time All-Star and has finished fifth in Cy Young voting before. He's the fourth starter. Most teams would consider a guy who went 15-4 with a 2.63 ERA last season their unquestioned ace, but Zack Greinke is unquestionably the No. 2 starter here.
Example 2: There are four outfielders who have an All-Star ceiling.
Example 3: The bullpen has three former All-Star closers, but none of the three are the Dodgers' actual closer.
Biggest weakness
Durability.
Can the aforementioned talent stay on the field? At a bare minimum, Beckett, Crawford and Kemp have to be considered major injury risks. Haren and Perez have had shoulder issues, too.
More generally speaking, only two Dodgers position players appeared in more than 135 games last season and only two pitchers started at least 30 games.
Outlook
The Dodgers won 92 games last season despite having so many injury issues. Some of those -- to Ramirez and Greinke specifically -- were more of the flukey variety, it would seem. They appear deeper and stronger in several spots, too, so the expectations are rightfully through the roof here.
Consider that the Dodgers were third in the NL in average and on-base percentage, but that was with only 104 games of Puig and 86 of Ramirez.
Consider that the Dodgers were No. 1 in the league by far in rotation ERA and look even better this time around.
Consider that the Dodgers blew 19 saves last season, but didn't turn to Jansen as a full-time closer until late June. This time around, he'll be flanked by Wilson, who had a 0.46 ERA and 0.92 WHIP in 19 2/3 innings after his return (playoffs and regular season combined).
For the above and at least a handful more reasons, there's every reason to believe the Dodgers couldn't possibly be worse than last season and, again, they won 92 games.
The NL West should be a strong division, but the Dodgers are the most talented by a decent gap. Injuries and underperformance could derail them, sure, but it didn't do so last year. The bet is 2014 sees the Dodgers again win the division and make at least the NLCS -- and maybe even more. Don't be surprised to see World Series predictions here later this month.
---
Coming Tuesday: Previewing the San Francisco Giants