MLB rumors, injuries and news roundup for March 12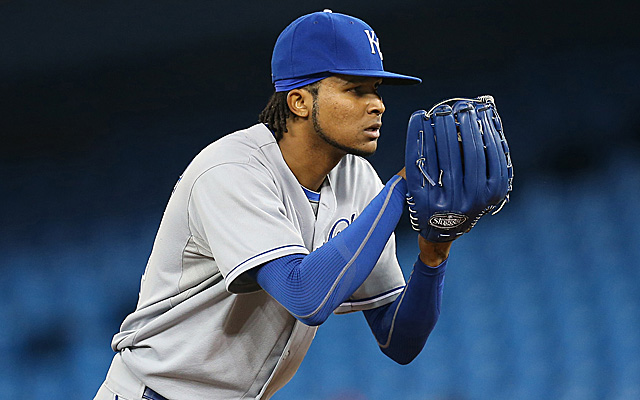 MORE: Spring Training | Scoreboard | FA tracker: hitters | FA tracker: pitchers
The number of free agents who turned down a one-year, $14.1 million qualifying offer is now down to two (Kendrys Morales, Stephen Drew). We'll cover why in addition to hitting on myriad injury updates below. Time to round up the day that was.
SIGNING
•Braves: They have agreed to sign free agent starter Ervin Santana to a one-year, $14.1 million deal. They had to forfeit a first-round pick in order to do so, but the move came after a rash of injuries to their presumed rotation.
INJURY UPDATES
•Braves: It's not official yet, but starter Kris Medlen is expecting to have a second Tommy John surgery.
•Brewers: On the freak injury front, Francisco Rodriguez stepped on a cactus. Also, second baseman Rickie Weeks left Wednesday's game after feeling a "pop" in his hamstring, but said it was a good thing due to it being scar tissue from his season-ending surgery breaking free (Brew Beat).
•Dodgers: Center fielder Matt Kemp (surgically-repaired ankle) was able to play defense in game action for the first time this spring.
•Giants: Marco Scutaro was able to give full participation in batting practice and fielding drills as he works to return from a back injury (SFGiants.com).
•Nationals: Ian Desmond missed Wednesday's action after cutting open a finger during pregame infield (Nationals official Twitter account). It's minor and this is the type of thing that causes players to miss a game in spring training but not in the regular season.
•Orioles: Matt Wieters will take a few days off due to a sore ankle, but it's nothing serious and he'll be back Saturday (Baltimore Sun).
•Padres: Catcher Yasmani Grandal is set to catch his second game Thursday (U-T San Diego). His first appearance in game action since tearing his ACL last season came Monday. Also, Chase Headley continues to work toward a comeback from a calf injury and manager Bud Black expects him back "within the next week." (U-T San Diego)
•Phillies: Cole Hamels told reporters that he felt great after a bullpen session, but still said he wouldn't rush himself in order to pitch in April. His session was only 20 pitches. (CSNPhilly.com)
•Rangers: Catcher Geovany Soto (foot) and right fielder Alex Rios (oblique) could return to the lineup Saturday (Fort Worth Star-Telegram).
•Rays: Starting pitcher Jeremy Hellickson began throwing for the first time Wednesday since having a clean-up surgery done on his elbow in January (TBO.com).
•Reds: Mat Latos is working back from arthroscopic knee surgery and is "very close to game-ready," according to manager Bryan Price (cincinnati.com).
NEWS, RUMORS AND SPECULATION
•Astros: Former hyped-prospect Brett Wallace was released, per Jose de Jesus Ortiz of the Houston Chronicle.
•Cardinals/Chris Carpenter: The former ace is "at peace" with his decision to retire and hasn't had second thoughts (St. Louis Post-Dispatch).
•Livan Hernandez: The long-time right-handed pitcher will reportedly retire.
•Indians: The club is still talking extension with second baseman Jason Kipnis, reports Paul Hoynes of cleveland.com. Kipnis won't be a free agent until after the 2017 season, but this is a good time to start locking up younger players -- before the lure of huge free agency dollars is imminent.
•Mets: Reliever Carlos Torres will make the opening-day bullpen, said manager Terry Collins (ESPN New York). In that same article, take note of Kyle Farnsworth's continued struggles and the Mets re-evaluating where he is in 10 days -- when there's an out in his contract.
•Joel Pineiro: The former pitcher is continuing his effort to make a comeback, reports Jesse Sanchez of MLB.com. Pineiro threw for scouts from at least 12 teams last week, Sanchez notes.
•Rockies: Jorge De La Rosa will be the opening-day starting pitcher.