2014 team preview: Cleveland Indians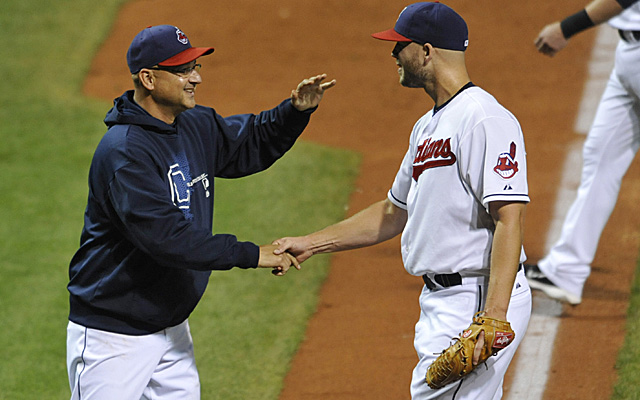 More: Likes, dislikes | Over/unders | All Team Previews | Spring Training
The 2012 Indians were in first place in late June and just three games back of the Tigers at the All-Star break. They would completely fall apart in historic fashion in the second half, though, going 24-53 in a stretch that included a 5-24 August.
Last seaso was a different story. The Tribe erased that disappointment of '12 with a late surge getting them into the wild-card game. They went 21-6 in September to finish 92-70. The new leadership of manager Terry Francona -- not to mention veterans like Jason Giambi, Nick Swisher and Michael Bourn -- had to have helped.
The Indians lost in the wild-card game, sure, but they now look to take another step forward in 2014.
Probable lineup
1. Michael Bourn, CF
2. Nick Swisher, 1B
3. Jason Kipnis, 2B
4. Carlos Santana, DH
5. Michael Brantley, LF
6. Asdrubal Cabrera, SS
7. David Murphy, RF
8. Yan Gomes, C
9. Lonnie Chisenhall, 3B
Bench - DH Jason Giambi, IF Mike Aviles, IF/OF Elliot Johnson, OF Ryan Raburn
The big thing to watch here is the Carlos Santana experiment at third base. If he sticks there, Chisenhall goes to the bench and either Giambi -- once he recovers from his broken rib -- or Raburn is inserted into the lineup at DH. The Tribe would also need to add a catcher to the bench, in all likelihood. For now, though, Chisenhall is having a good spring and the Giambi injury makes it seem more likely the above lineup is how things begin. Still, no team sports the same lineup throughout the season, so the Santana-3B idea is one to keep in mind.
Probable rotation
1. RHP Justin Masterson
2. RHP Corey Kluber
3. RHP Zach McAllister
4. RHP Danny Salazar
5. RHP Carlos Carrasco
The ace Masterson remains, but Ubaldo Jimenez and Scott Kazmir have departed via free agency. It could hurt, for sure, but the Indians do have upside in Salazar and Carrasco -- not to mention former top 10 prospect (and still top 25 prospect) Trevor Bauer, who is still only 23 years old. Kluber and McAllister can serve as steadying presences, too.
Aaron Harang and Shaun Marcum (we'll get to him) are also in camp.
Probable bullpen
Closer - RHP John Axford
Setup men - RHP Vinnie Pestano, RHP Cody Allen
Middle men - LHP Marc Rzepczynski, RHP Bryan Shaw, RHP Josh Outman
Long man - RHP Josh Tomlin
The Indians' bullpen last year was middle of the pack (eighth of 15) in the AL in ERA, but they blew 22 saves in 60 chances. The 63 percent conversion rate was 13th in the AL. With Chris Perez taking his baggage with him, there's certainly room for improvement here. Pestano is due a bounce-back season while Allen is excellent at missing bats (88 K, 70 1/3 IP last season) and Shaw is coming off a very good season. Rzepczynski held lefties to a .179/.230/.250 line last season. Basically, the road to new closer Axford appears sound.
Axford was outstanding as the Brewers closer in 2011 but had a rough go of things in 2012 and wasn't the closer last season. He posted solid numbers after being traded to the Cardinals (1.74 ERA, 9.6 K/9, 3.67 K/BB), but that was only in 10 1/3 innings. How he performs will go a long way in how well the bullpen as a whole shows this season. More on him below.
Under-the-radar offseason transaction
Shaun Marcum could be Scott Kazmir, Part II -- even if his comeback story wouldn't be nearly as unlikely as Kazmir's.
The bad: Marcum was 1-10 with a 5.29 ERA and 1.35 WHIP last season for the Mets. He's had Tommy John surgery in the past, dealt with a litany of other injuries -- including elbow tightness -- and is now coming off Thoracic Outlet surgery.
The downside? There's none. The Indians signed him to a minor-league deal and he's a non-roster invitee to camp. Essentially, he's costing them nothing.
The upside: Marcum was 13-8 with a 3.64 ERA for the Blue Jays in 2010. In 2011, he was 13-7 with a 3.54 ERA in 200 2/3 innings for a team that came within two wins of the World Series. He was productive again in 2012 prior to injury. He's still only 32, so by no means is he old.
Scoff if you wish, but many scoffed at the chances of Kazmir ever helping a big-league club again just 12 months ago. And now he has a two-year, $22 million deal with one of the most intelligently frugal franchises in baseball.
Marcum is just now beginning to face live hitters, but it's plausible he's ready to join the Indians rotation in May and pull a Kazmir. If he doesn't? Oh well. No one freaks out when not winning the lottery.
Fantasy bounceback candidate: John Axford

"From 2009 to 2011, Axford had a 2.26 ERA and 1.17 WHIP over 131 appearances, saving 71 games (including 46 in 2011). Then it all came crashing down -- until the Cardinals revealed to Axford that he was tipping his pitches. His late-season resurgence with St. Louis makes plenty of sense in light of this information -- Axford's fastball hadn't lost any velocity, and he wasn't injured. If the problem has been corrected (and all signs point to that being the case), Axford could be looking at 40 saves with a return to his low-ratio, high-strikeout numbers. And with plenty of disbelievers out there -- and probably a good amount who didn't even see this Axford news, which came out in a dead period for baseball -- he can be had at a bargain price in 2014. The move to the American League shouldn't hurt Axford; he has a 2.48 ERA and 1.21 WHIP, with 10 saves in 29 career interleague games." Nando Di Fino [Full Indians team fantasy preview]
Biggest strength
Roster flexibility. That is to say that the Indians have tons of different starting options -- especially if Santana can stick at third, and remember he can catch or play first, too. Swisher could play first or the outfield. Johnson and Raburn can play multiple positions. Brantley can take over in center if Bourn gets hurt. The options on defense are plentiful.
How about at the plate? The Tribe is poised to start only one right-handed hitter in Gomes along with three switch-hitters and five lefties. There are right-handed options on the bench if they're needed, though.
And then the rotation could possibly have eight viable options, if Carrasco, Bauer, Harang and Marcum perform well.
This might not be a huge strength on some teams, but the Indians have Terry Francona, who showed again last season his impeccable ability to put players in the position to succeed when it it was most needed. He can exploit this roster to his advantage.
Biggest weakness
The downside of the rotation.
Yes, there's upside as I mentioned in above, but the what ifs are plentiful with this bunch.
Kluber has a career 88 ERA+ in 214 2/3 innings and he's set to turn 28 in April, so it's not like he's some youngster just coming into his own. McAllister is 15-18 with a 4.12 ERA (93 ERA+) in his career and he's 26. Those two don't possess huge upside and could actually disappoint.
The guys who do have upside? Well, Danny Salazar is only 24 and only has 10 career big-league starts. Carrasco will be 27 next week and has a 5.29 ERA in 238 1/3 career big-league innings. Bauer has a 5.67 ERA in eight career starts and has been terrible this spring. Harang may not have much left and Marcum is a lottery ticket.
I like Justin Masterson, but the rest of the group is laden with pratfalls.
Outlook
The Indians aren't really great at anything -- other than possibly mental strength, considering how many losing streaks they turned into winning streaks last season -- but they aren't bad at anything either. This is a solid ballclub that will find ways to score runs and probably find ways to keep them off the board enough to win their fair share of games.
I mentioned the question marks in the rotation, but Francona is a master at getting the most out of his guys -- witness the turn-arounds experienced by both Kazmir and Jimenez last season. There's also strength in numbers, which is to say that he only has to find four guys out of a possible seven (and maybe more) to fill the rotation behind Masterson. If someone fails, it's next man up.
I expect the offense to be good, but not great, and the Indians to hang around in the race to the end. The most reasonable predictions have the Indians and Royals a step behind the Tigers and in wild-card contention -- but baseball is very unpredictable by nature. There's enough here for a Central title.
---
Coming Tuesday: Previewing the Chicago Cubs