MLB rumors, injuries and news roundup for March 21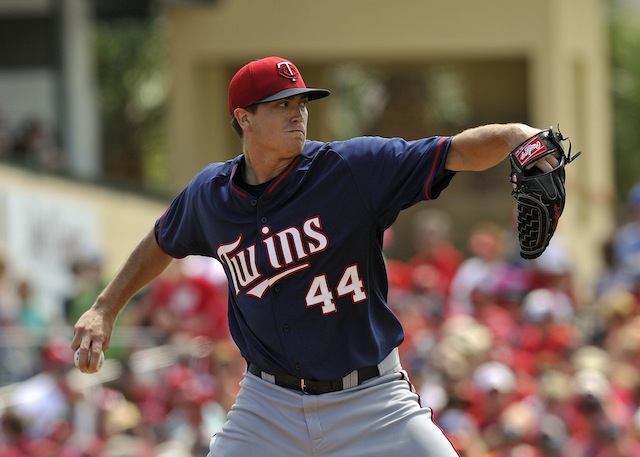 MORE: Spring Training | Scoreboard | Team previews
On the MLB spring training front, here's all that's worth knowing for Friday, March 21 ...
JON HEYMAN
- Heyman writes that the Tigers should consider signing SS Stephen Drew and trading for Cubs OF Nate Schierholtz. Failing Drew, they should check out the trade market for Diamondbacks SS Didi Gregorious ... Heyman also reports that DH David Ortiz and the Red Sox are making progress on a one-year contract for 2015 ... Heyman learned that Twins RHP Vance Worley was placed on waivers Friday. Later, Worley cleared waivers and was out-righted to Triple-A Rochester ... Earlier, Heyman tweeted that the Phillies have made John Mayberry Jr. available in trade.
TRADES
- Angels, Tigers: The Angels have sent INF Austin Romine to the Tigers in exchange for lefty reliever Jose Alvarez.
RUMORS, SPECULATION, NEWS, ETC.
- Blue Jays: The Jays had three scouts in attendance for the final spring start of Cubs right-hander Jeff Samardzija on Thursday. (Bruce Levine, CBS Chicago)
- Dodgers: Will play the season-opening series in Australia with OF Matt Kemp, RHP Josh Beckett and RHP Chad Billingsley on the DL and Carl Crawford on the paternity list. Cuban import and infielder Alexander Guerrero will be on the active roster.
- Indians: GM Chris Antonetti says the team and RHP Justin Masterson have agreed to lay aside contract extension talks for the time being and perhaps revisit them later. (Jordan Bastian, MLB.com) ... The Indians have released RHP David Aardsma.
- Orioles: Have released 1B Matt LaPorta and DH Jack Cust.
- Padres: Have released INF Brandon Wood.
- Red Sox: LHP Jon Lester says he and the team are making progress toward a contract extension but aren't there just yet. (Brian MacPherson via Twitter)
- Twins: The Twins have named RHP Kyle Gibson as their fifth starter. The decision to outright Worley (noted above) cleared the path for Gibson. Gibson, 26, was regarded by almost everyone as one of the top 100 prospects in baseball coming into the 2010, 2011 and 2013 seasons. He underwent Tommy John surgery in 2012 and worked 51 fairly ugly innings for the Twins last season. With that said, he keeps the ball down, misses some bats, throws three pitches for the strikes and certainly has more upside than Worley. (LaVelle E. Neal III, Minneapolis Star-Tribune)
INJURY UPDATES
- Mariners: RHP Taijuan Walker (shoulder) will pitch in a minor-league game on Saturday. He's slated for two innings or 20-30 pitches. (Greg Johns via Twitter)
- Orioles: The doctor for 3B Manny Machado (knee surgery) has lifted all restrictions in terms of workouts and baseball activity. It's still not certain whether Machado will be ready for opening day, though. (Stephania Bell, ESPN.com)
- Phillies: INF Freddy Galvis has been diagnosed with MRSA, an antibiotic-resistant bacterial infection, and it's not certain when he'll be able to play again ... OF Darin Ruf will miss the next four to six weeks with a strained oblique.
- Rangers: Ace Yu Darvish was scratched from his scheduled Friday start because of neck discomfort. He's still expected to be ready for opening day.
- Reds: RHP Jonathan Broxton (forearm) and LHP Sean Marshall (shoulder) will open the regular season on the DL. RHP Mat Latos (knee surgery) may join them. As well, C Devin Mesoraco is dealing with a strained oblique, and his status going forward isn't yet known. Elsewhere, RHP Johnny Cueto (back/shoulder) will start a minor-league game on Tuesday, and RHP Homer Bailey (groin) slated for Friday and Sunday bullpen sessions.
- Tigers: Setup man Bruce Rondon will undergo Tommy John surgery and miss the entirety of the 2014 season.
- Yankees: The balky back of SS Brendan Ryan tightened up on him on Friday, and now his status for opening day is in doubt. (Jorge Castillo, Newark Star-Ledger)