Quick Hits: Dodgers beat D-Backs 7-5, finish off sweep in Australia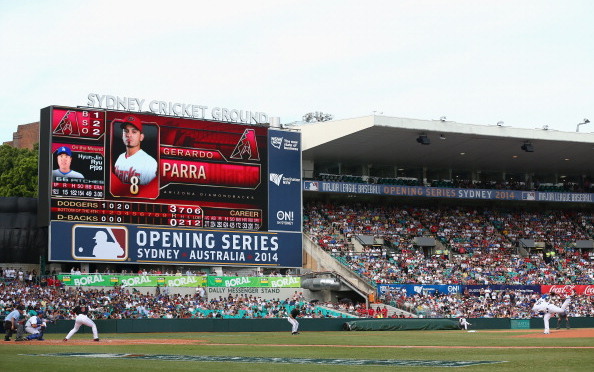 MORE: Game 1 Quick Hits | Spring Training | Scoreboard | Team Previews
The first two games of the 2014 regular season are in the books. The Dodgers finished off a two-game sweep of the Diamondbacks at the Sydney Cricket Ground in Australia on Sunday afternoon (local time), beating their division rival by the score of 7-5. This one never really felt as close as the final score indicates. Let's recap, quick hits style.
Hero: The top of the Dodgers' lineup, specifically Dee Gordon and Yasiel Puig. The club's one-two hitters went a combined 6-for-9 with two doubles, two hit by pitches, three runs scored and three runs driven in. Yeah, Puig ran himself into two outs on the bases, but I'm willing to overlook that since he was on base four times in the first place. Take the bad with the good, I say. Gordon and Puig put pressure on the Diamondbacks all game and set the tone for the rest of the lineup. Great game for the duo.
Goat: The D-Backs' pitching staff as a whole. Seven runs on 13 hits, eight walks and two hit batsmen while only striking out seven? Yuck. Trevor Cahill labored through four innings, throwing 89 pitches to get a dozen outs. He walked four, struck out one, and surrendered five runs on eight hits. The bullpen -- manager Kirk Gibson used five different relievers -- wasn't much better. Special shout-out goes to the Arizona defense, which compounded the pitching problems by committing three errors.
Turning point: There was no obvious turning point in this game; the Dodgers took the lead in the very first inning and continued to tack on runs. So I guess that's the turning point: Andre Ethier's RBI single to open the scoring. The Dodgers led for 17 of the 18 innings in this two-game series.
It was over when: Pinch-hitter Tuffy Gosewisch flew out harmlessly with the bases loaded to end the eighth inning. The D-Backs scored their first run earlier in the inning, and, if they wanted to have any chance of making a comeback, he had to come through and keep the rally alive somehow. He didn't and six-run deficit remained. Arizona tried their darndest in the ninth, but six runs was just too much to overcome in the span of three outs.
Next: The two-game opening series in Australia is complete, so the Dodgers and D-Backs will now return to the United States and ... resume spring training. Both clubs will play a handful of exhibition games next week before restarting the regular season the following week, when everyone else will just be getting started. Got it? Good.