White Sox sign lefty Jose Quintana to five-year extension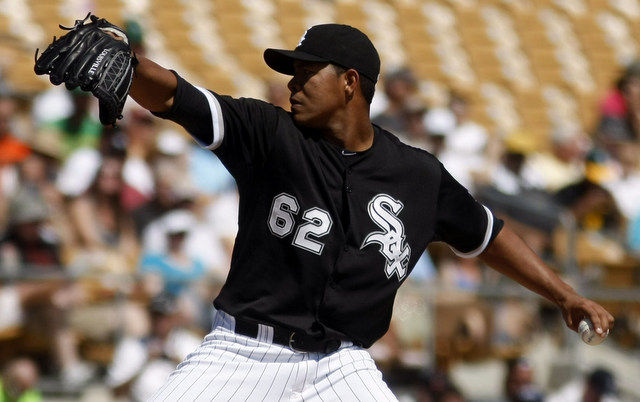 MORE: Spring Training | Scoreboard | Team previews
The White Sox have locked up their No. 2 starter long-term. The club announced they have signed left-hander Jose Quintana to a five-year contract extension with two club options. Here are the contract details:
#WhiteSox give Jose Quintana 5-year, $26.5 mil extension. Deal has options for $10.5 mil for '19, $11.5 mil for '20. (1/2)

— Dan Hayes (@DanHayesCSN) March 24, 2014
Guaranteed money in Jose Quintana's deal is contingent on arb status. If he qualifies for super two, it's $26.5 mil. If not, $21.5'mil.

— Dan Hayes (@DanHayesCSN) March 24, 2014
The five-year deal buys out Quintana's remaining years of team control. The options cover two free agent years and would potentially max the deal out at $48.5 million if picked up.
Quintana, 25, went 9-7 with a 3.51 ERA (122 ERA+) and a 2.93 K/BB in 33 starts and exactly 200 innings last season. He ranked sixth in the AL with 5.4 WAR. Since breaking into the league in 2012, Quintana has a 3.61 ERA (118 ERA+) in 336 1/3 innings.
The White Sox signed the Quintana as a minor league free agent during the 2011-12 offseason. He spent the first few years of his career in the Mets' and Yankees' farm systems.
Staff ace Chris Sale is signed through 2017 for only $30.65 million with club options for 2018 and 2019.