Edwin Encarnacion OK after being hit by pitch in wrist/forearm
MORE: Spring Training | Scoreboard | Team previews
UPDATE: GM Alex Anthopoulos confirmed Encarnacion is fine after the game. He was removed as a precaution. Exhale, Jays fans.
* * *
Blue Jays slugger Edwin Encarnacion exited Wednesday's spring training game after being hit by a pitch from Yankees reliever Preston Claiborne. It got him in the right wrist/forearm area. Here's the pitch: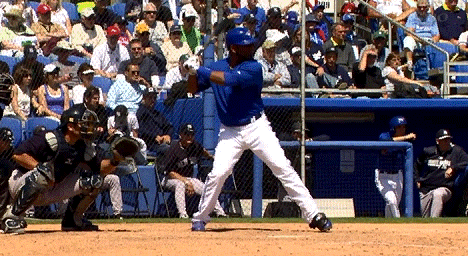 Encarnacion, obviously, was in quite a bit of pain. He left the game immediately but remained in the dugout for a few minutes before being led away by the trainer. Encarnacion had surgery to clean out some scar tissue from his left wrist (not the one that was hit) over the winter.
In 142 games last season, Encarnacion hit .272/.370/.534 (145 OPS+) with 36 home runs and 104 RBI. He had more walks (82) and extra-base hits (66) than strikeouts (62). The guy has quietly emerged as one of the game's elite power hitters, so losing him for any length of time would be devastating.
The Blue Jays have not yet released an official update on Encarnacion.