Ranking the 2014 opening day pitching matchups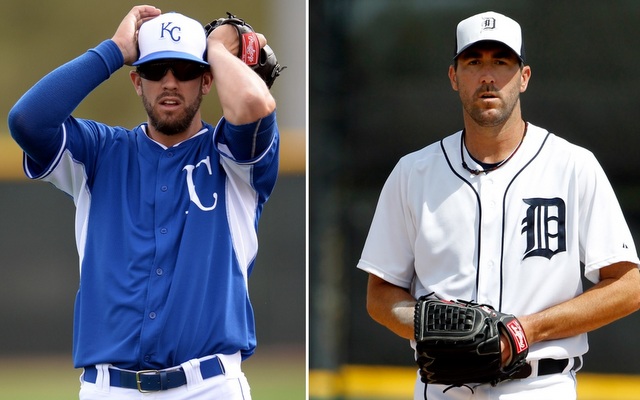 MORE: Predictions | Spring Training | Scoreboard | Team previews
In the grand scheme of things, opening day is no more important than any other regular-season game. For a starting pitcher though, getting the ball in that first game is an honor. It means your club has dubbed you the staff ace and expects you to set the tone for the rest of the season.
Since 1916, Tom Seaver leads all pitchers with 16 career opening day starts. Steve Carlton, Randy Johnson and Jack Morris are all tied for second at 14 apiece. CC Sabathia leads all active pitchers with 10 career opening day starts, and in a few days it will be 11.
Unfortunately, injuries have knocked several projected opening day starters out of action this spring, including Kris Medlen, Jarrod Parker, Jonathon Niese, Yu Darvish, Jhoulys Chacin and Patrick Corbin. We can't forget Matt Harvey either. That's a lot of really great pitchers we won't get to see at the outset of the year.
There are still some premium pitching matchups scheduled for the first day of the 2014 season, so it's only natural for us to rank them 1-15. The numbers in parentheses are the pitcher's number of career opening day starts, including 2014. To the totally subjective rankings...
1. James Shields (6), Royals vs. Justin Verlander (7), Tigers
Verlander and Shields rank first and third in innings pitched over the last five seasons, so they are two of baseball's preeminent workhorses. They also rank first and 14th in WAR over the last three seasons, so these aren't your typical mid-rotation innings eaters. The Royals are a trendy breakout pick, and if they're going to push the Tigers for the AL Central crown, winning the first game and taking the first head-to-head series would be a help.
2. Adam Wainwright (3), Cardinals vs. Johnny Cueto (3), Reds
This matchup lost a little luster because Cueto missed most of last season with a series of lat strains, but I'll give him the benefit of the doubt because they aren't arm injuries. Wainwright finished second in the Cy Young voting last season and Cueto has a 2.61 ERA (!) in his last 433 2/3 innings, dating back to 2011. That is mighty impressive.
3. Felix Hernandez (7), Mariners vs. Jered Weaver (6), Angels
These two guys have been squaring off for a long, long time. Felix is at the top of the watchability charts and while Weaver's fastball is more mid-80s than mid-90s these days, his kitchen sink approach is fun to watch because of all the ugly swings. Hitters have no idea what's coming. Over the last three years, these two have combined for a 2.99 ERA in 1,248 2/3 innings, plus a no-hitter and a perfect game.
4. R.A. Dickey (2) , Blue Jays vs. David Price (3), Rays
The 2012 Cy Young winners will open 2014 with a head-to-head matchup. Both had down years in 2013, at least compared to their Cy Young seasons, but they are two of the most fun to watch pitchers in baseball, in my opinion. Dickey's hard knuckleball makes him unique even among knuckleballers, and Price is electric when he's dotting the outside corner to righties with his cutter. Just an unhittable pitch.
5. Madison Bumgarner (1), Giants vs. Brandon McCarthy (2), Diamondbacks
Yeah, the D-Backs opened their season last week in Australia, but let's ignore those games. They throw a wrench into things.The Giants have had some great opening starters in recent years thanks to Matt Cain and Tim Lincecum, but the young southpaw gets the nod this year because, quick frankly, he is the best pitcher on the staff right now. McCarthy is very good when healthy, which isn't frequent enough. I will greatly enjoy this matchup.
6. Jon Lester (4), Red Sox vs. Chris Tillman (1), Orioles
I still feel like Lester is a young pitcher, but he's a grizzled veteran with two World Series rings about to make his fourth career opening day start. Tillman, on the other hand, is a young pitcher who finally established himself as a legitimately above-average starter in 2013. This is my sneaky good matchup, the one that could turn in a true gem of a pitcher's duel.
7. Jeff Samardzija (2), Cubs vs. Francisco Liriano (2), Pirates
The boom or bust matchup. Samardzija or Liriano could combine for 30 strikeouts and six hits allowed or 20 hits and 10 runs allowed. Neither would be all that surprising given their track records.
7.5. Clayton Kershaw (4), Dodgers vs. Wade Miley (1), Diamondbacks
This game already happened last weekend and I'm not including it in the official rankings because it would throw things out of whack. I do want to mention it though, mostly because Kershaw would have not been mentioned otherwise, and it feels wrong to not include the best pitcher in baseball.
8. Jorge De La Rosa (1), Rockies vs. Jose Fernandez (1), Marlins
This is this year's only matchup of first time opening day starters, though De La Rosa has been around a bit longer. Fernandez will be the youngest opening day starter since 2007 (Felix Hernandez) and the youngest in the National League since 1985 (Doc Gooden). He alone makes this a must watch.
9. Ricky Nolasco (3), Twins vs. Chris Sale (2), White Sox
Sale is one of the three or four best pitchers in baseball in my opinion. The guy is a stud. Nolasco has a lot of ups and downs but he's obviously a quality major league starter, someone who can strike out a dozen guys on any given night. This is my sleeper pick for the best pitched game on opening day, especially considering the two lineups.
10. Justin Masterson (3), Indians vs. Sonny Gray (1), Athletics
With Parker hurt, Gray gets the nod on opening day in his 12th career start, 14th if you count the postseason. Masterson is a known quantity at this point, a reliable innings eater who occasionally pitches like an ace. This is a great matchup for prospect hounds and those who believe Masterson is ready to take that next step in his age 29 season.
11. Dan Haren (3) or Hyun-Jin Ryu (1), Dodgers vs. Andrew Cashner (1), Padres
Kershaw's back is bothering him, so he will not start the domestic season opener. Right now it's between Haren and Ryu, both of whom is a significant downgrade in watchability. It's a shame. Cashner is quietly outstanding and on the cusp of ace-hood, in my opinion. Ryu-Cashner would be my preferred matchup on Sunday.
12. Julio Teheran (1), Braves vs. Yovani Gallardo (5), Brewers
I feel like I might be underrating this matchup. Teheran is obviously outstanding, but Gallardo slipped and had the worst season of his career in 2013, pitching to a 4.18 ERA and 0.5 WAR. He was consistently mid-3.00s ERA and 2+ WAR before that. Teheran is the star of this show, though Gallardo is still so young that a rebound to his pre-2013 is far from impossible. By the way, Gallardo is setting a new franchise record with his fifth straight opening day start, breaking a tie with Ben Sheets.
13. Stephen Strasburg (3), Nationals vs. Dillon Gee (1), Mets
Why do elbow ligaments have to be so fragile? We were robbed of a Strasburg-Harvey matchup, which would have easily topped the rankings. Easily. Don't get me wrong, Gee is a solid and underrated pitcher, but he's no Harvey. Maybe next year.
14. Cliff Lee (2), Rangers vs. Tanner Scheppers (1), Rangers
Hard to believe this will only be Lee's second career opening day start, no? Weird. Had Darvish not come down with his neck issue last week and been able to make this start as scheduled, I would have ranked this matchup first or second. Instead, Scheppers will make his first career start on opening day, becoming the first pitcher to do that since Fernando Valenzuela. That's a fun fact, but it doesn't improve the watchability at all.
15. CC Sabathia (11), Yankees vs. Scott Feldman (2), Astros
One of these pitchers had a 4.78 ERA and 0.3 WAR last year. The other is Scott Feldman. It's weird to have such an established pitcher and former Cy Young award winner in the 15th ranked matchup, but Sabathia was awful last year and he's at the age when it might not be a fluke, but the sign of serious decline. Vintage CC would have that his matchup a bit higher, but this is 2014 CC.