Braves reliever Cory Gearrin might need Tommy John surgery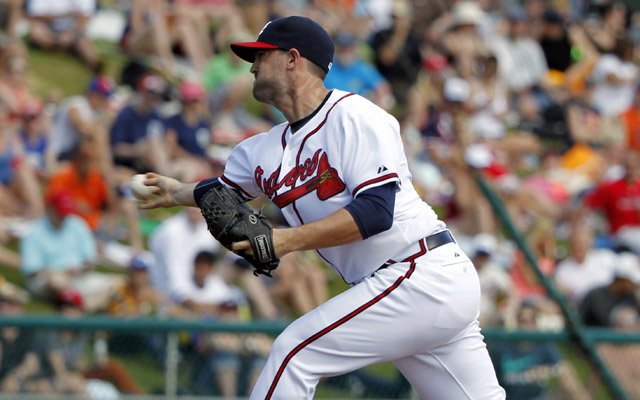 MORE: Predictions | Spring Training | Scoreboard | Team previews
If you see a Braves fan walking around in the next few days, give him or her a hug. Then again, if you see a Braves pitcher, get away as quickly as possible, lest you injury your ulnar-collateral ligament in your elbow -- because it seems to be contagious.
The latest Braves pitching victim is reliever Cory Gearrin. He exited his last outing with discomfort in his throwing elbow and now is facing Tommy John surgery. He'll visit Dr. James Andrews next week after initial examinations have shown a "ligament involvement" in his right elbow, according to ajc.com.
Gearrin would join Kris Medlen and Brandon Beachy as Braves pitchers who have already needed Tommy John surgery this spring, not to mention joining the likes of Jonny Venters and Eric O'Flaherty within the past 12 months.
Gearrin, 27, had a 3.77 ERA, 1.48 WHIP and 23 strikeouts in 31 innings last season for the Braves. The sidearmer stranded 28 of the 35 runners he inherited and has only allowed three homers in 298 career big-league batters faced.
Gearrin was set to be a member of the Braves bullpen for this season. Instead, lefty Ryan Buchter has been recalled and will get the spot to begin the season.