Closing down games a problem thus far in 2014 season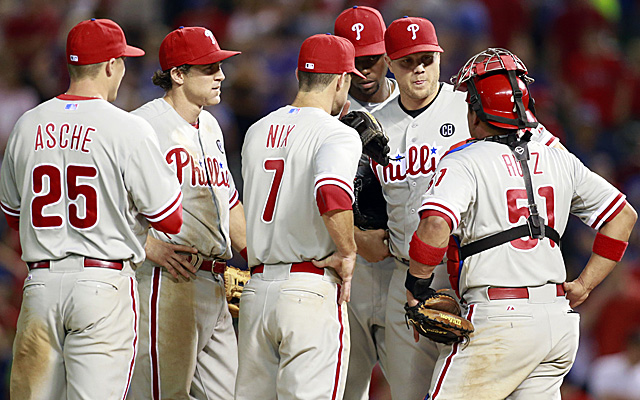 More MLB: Scoreboard | Standings | Probable Pitchers | Sortable Stats | Odds
If anecdotal evidence tells you there have been lots of late leads blown in the early going here in the 2014 Major League Baseball season, I'm inclined to agree with you.
With every team having played between two and six games -- and most with three -- we've seen a very high percentage of saves blown.
With four games yet to finish Thursday night, there are already 18 blown saves against 23 saves. That's good for a conversion rate of just 56 percent. Does that sound awful? Because it is.
Last season, the league-wide conversion rate on saves was 69 percent. Only one team had a rate of worse than 56 percent (the Astros, at 52 percent).
The three seasons before that?
2012: 70 percent
2011: 68 percent
2010: 69 percent
On an individual team basis, 13 have already recorded at least one blown save -- and, again, most teams have only played three games -- while five have already blown two saves: Athletics, Phillies, Mets, White Sox and Diamondbacks.
The following closers have already been touched up for a blown save: Jason Grilli (0-for-1), Jonathan Papelbon (0-for-1), Jose Veras (0-for-1), Joe Nathan (0-for-1), Bobby Parnell (0-for-1), Glen Perkins (1-for-2) and Jim Johnson (0-for-1).
So what's this all mean?
Not a whole lot. Just a handful of games in a 162-game season is an unbelievably small sample. Expect the save conversion rate for this season to get back up to around where it has been the past four years, in the 67-70 percent range. This isn't even getting into the fact that the blown save is a dubious stat in some ways. For example, a team can collect more than one in a single game, as the A's did Wednesday night when Johnson and Luke Gregerson gathered one apiece.
Basically, if your favorite team has had issues at the back-end of the bullpen at some point so far this season, don't worry about it just yet. You aren't alone and it'll start to settle down moving forward for most of you. You are, however, encouraged to envy Braves fans for them getting to root for Craig Kimbrel.
UPDATE: See, it's already getting better. Since I wrote this, the league is 2-for-2 in save chances (Red Sox/Koji Uehara and Yankees/David Robertson).
UPDATE II: And we have another blown save, this time by the Mariners in Oakland. That means the league is 25-of-44 (56.9 percent).