Matt Moore has tear in UCL, may need Tommy John surgery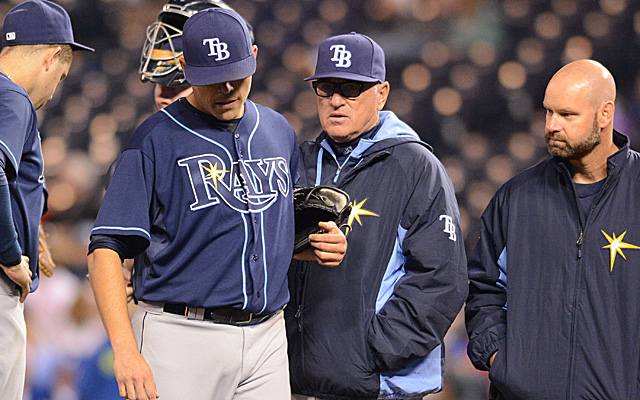 More MLB: Scoreboard | Standings | Probable Pitchers | Sortable Stats | Odds
Rays starting pitcher Matt Moore got some bad news on his injured elbow, which is that there's a tear in the ulnar-collateral ligament. More specifically, the UCL is the ligament that sometimes requires Tommy John surgery to repair.
Moore and the Rays haven't made the decision yet as to whether or not to have the surgery or to instead attempt the rehab route, as the tear isn't a complete tear. That decision will come after further evaluations are made.
More details, from tbo.com:
An MRI taken Tuesday in Kansas City was inconclusive, so Moore flew Wednesday to Pensacola to visit top orthopedic surgeon James Andrews for another MRI.

This time, contrast dye was injected into the elbow for better results, and those results showed a tear.

"I don't think it's fully torn, from what I understand," [manager Joe] Maddon said.

Moore said Tuesday he was hoping the injury was just bruising from the ligament rubbing against something in his arm while he threw the change-up, because the pain did not occur when he threw his other pitches. He also said he didn't feel a pop, which some pitchers experience when they completely tear the UCL.
Should Moore choose the rehab route and have it work out well for him, he could miss just a month of the season. Surgery would mean the 2014 season is over and he'd likely miss a bit of 2015, too. Of course, if Moore chooses rehab and he ends up needing the surgery anyway (Chad Billingsley, among others, comes to mind), then his entire 2015 season is in jeopardy in addition to the current one.
Moore, a 24-year-old lefty, was 17-4 with a 3.29 ERA, 1.30 WHIP and 143 strikeouts in 150 1/3 innings last season. He is 0-2 so far this year, but has a 2.70 ERA.