Leaderboarding: Worst seasons by a player with a .400+ OBP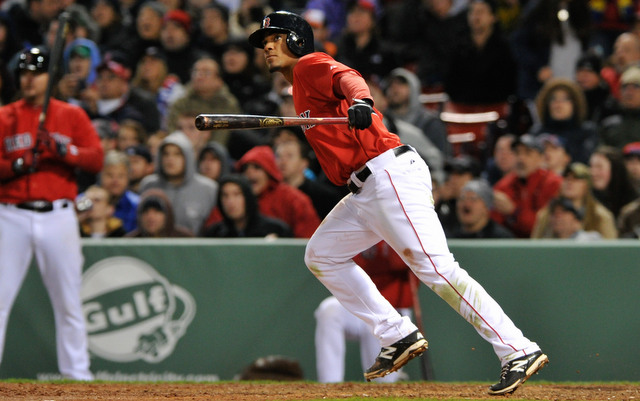 More MLB: Power Rankings | Expert Picks | Latest news & notes | Fantasy news
Every few days I take a look at the various stat leaderboards just to see who ranks where around the league. Chase Utley and Charlie Blackmon both current lead MLB with a .406 batting average, Giancarlo Stanton leads with 26 RBI, Stephen Strasburg leads with 42 strikeouts. Stuff like that.
As I was making my way through the leaderboards this morning, I noticed Red Sox rookie Xander Bogaerts has a .403 on-base percentage. That is impressive for any player, especially a 21-year-old kid in his first full season. I also noticed this: Bogaerts only has a .752 OPS. Again, that's really good, but it is also by far the lowest OPS among the 22 qualified hitters with a .400+ OBP. Emilio Bonifacio and Christian Yelich are second worst with a .838 OPS, so we're talking about an 86-point gap in OPS. That's huge.
Anyway, this got me wondering about the worst offensive seasons by a player with a .400+ OBP. OPS is pretty basic -- consider the differences between Bogaerts' and Yelich's home ballparks and that 86-point gap in OPS looks even bigger -- so we're going to look at this two ways. First, let's use OPS+, which adjusts for ballpark and league and things like that. Here are the 15 worst seasons by a qualified hitter who reached base at least 40 percent of the time:
There are a few familiar names there, specifically Hall of Famer Rickey Henderson -- he had a .400 OBP at age 38, lol -- and current Rockies manager Walt Weiss. How he managed to hit .260/.403/.321 in the heyday of Coors Field, I'll never know.
Most of those players are way before our time, unfortunately. A little further down the list is 1996 Rickey (.410 OBP and 106 OPS+), 1996 Tony Phillips (.404 OBP and 109 OPS+) and 2000 Corey Koskie (.400 OBP and 110 OPS+). The worst .400+ OBP season by a player since 2010 belongs to Joe Mauer, who had a league-leading .416 OBP in 2012, but "only" a 140 OPS+ overall. Bogaerts, for the record, is currently sitting on a 112 OPS+.
Now let's look at the worst .400+ OBP seasons using WAR because, hey, defense matters. If a guy is hitting .300/.400/.500 but is a total butcher in the field, his overall impact is not nearly as great as it may seem. Here are the 15 worst overall seasons by players with a .400+ OBP:
Because of his defense at shortstop, Weiss' all-time worst OPS+ by a .400+ OBP guy is "only" the 12th worst season by WAR. Prince Fielder and Nick Johnson were worth only a win and a half to their teams in recent years because of poor defense despite great offensive numbers, and Pat Burrell is right there with them. Again, Rickey pops up a few times.
In the most basic sense, the single best thing a hitter can do at the plate is not make an out. Guys with a .400+ OBP are making outs at a lower rate than their peers, but that alone doesn't automatically make them a great hitter. If that sky-high on-base percentage comes with no power or relatively few base hits or poor glovework, then they aren't any more valuable than a league average player. It doesn't happen often, but it's not unheard of either.