Russell Martin challenges Martin Maldonado to charity fight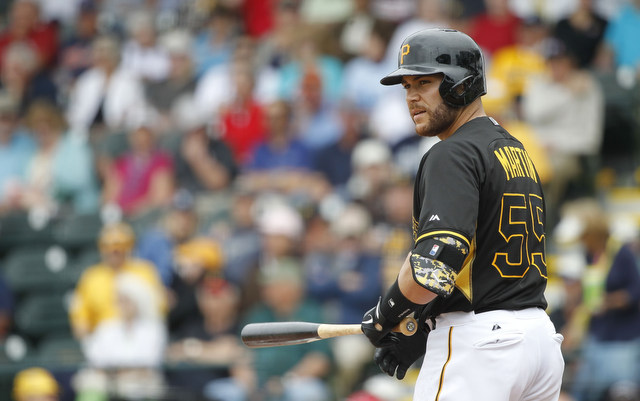 More MLB: Power Rankings | Expert Picks | Latest news & notes | Fantasy news
The Pirates and Brewers got into a rather nasty brawl on Sunday afternoon after Gerrit Cole and Carlos Gomez directed some bat flip-related chirping at one another. Brewers backup catcher Martin Maldonado was right in the middle of the brawl appeared to land the biggest punch in the skirmish.
On Monday afternoon, Pirates catcher Russell Martin challenged Maldonado to a charity fight in the offseason to settle the score:
Russell Martin: "Maybe (in) offseason we can raise some money for charity and battle it out. Me and (Maldonado). I'm throwing it out there."

— Travis Sawchik (@Sawchik_Trib) April 21, 2014
Martin: "If (Maldonado) wants to have a fight for charity in the offseason. My contract comes up. … I'd be completely willing to do that."

— Travis Sawchik (@Sawchik_Trib) April 21, 2014
This isn't going to happen for obvious reasons. One, it's stupid. Two, neither player is going to risk injury and a boatload of potential future salary. Martin knows that, so now he comes off looking like a tough guy. Plus he's deflecting attention away from the fact that his team lose three of four to Maldonado's Brewers.
I don't know, promoting fighting and brawling is not something a baseball player should be doing. It's not something the league should want either. Travis Snider, who has a black eye after the brawl, gets it:
Travis Snider: "We don't want to promote to fans that this is a bunch of thugs out here throwing blows...but I'll be there for my teammates"

— Travis Sawchik (@Sawchik_Trib) April 21, 2014
See? That's all you need. This charity fight stuff is just nonsense. Maldonado will be suspended and fined and that should be the end of it, but we all know it won't.